Water Levels Committee releases 2022 Post-Flood Report; rule curve decision for 2023
On Tuesday, the International Rainy-Lake of the Woods Watershed Board (IRLWWB) Water Levels Committee (WLC) hosted a public meeting in International Falls to preview their 2022 Post-Flood Report.
"If there's a flood event, I can guarantee you that members of the Watershed Board and the Water Levels Committee will be out in the basin, trying to support the communities as best we can," said Co-Chair Colonel Eric Swenson.
For the past several months, the Water Levels Committee has been analyzing what happened on the basin last year.
"We've gone back and we've mapped out what what happened, what the water level was at each and each day, and to see how the the sea and the Watershed Board and particularly the Water Levels Committee, you know, used every lever we had to try to influence a positive outcome for the people of the basin," said Swenson.
To open lines of communication with the public, the committee held a meeting in International Falls on Tuesday to present their findings and answer questions.
"Where the mistake, I think came for the local people was no gates, the all gates open. It never happened until the curve actually went to the hall gates open," said one resident.
"You people had the information. You should have said, 'hey, we got a seven foot flood coming, then people could have maybe been more prepared," another resident remarked.
The Water Levels Committee has learned from last year, aspiring to better communicate flood risk in the future.
"Citizens during an emergency are really hungry for information. They want to know what is going on. They want to know what the forecasts are going to say about, you know, future flooding or how long the intensity and duration of the flooding will be. And they want someone to provide them relief and to help them," Swenson explained. "We've learned that there's some places that we can do as a as the International Joint Commission and as a Watershed Board under that commission to help people find information and to learn what the Water Levels Committee in particular is doing to try to manage the water, the water levels in the reservoirs, to to head off any flooding that may potentially occur."
Although the Water Levels Committee has learned a lot from last year's flooding, most of the potential flooding is out of their control.
"The flow goes from Namakan into Rainy Lake into Lake of the Woods into Lake Winnipeg," said Swenson. "So there's not a whole lot of spaces for the water to run when everything is inundated by a massive rainstorm that sits over this area for 2-3 weeks."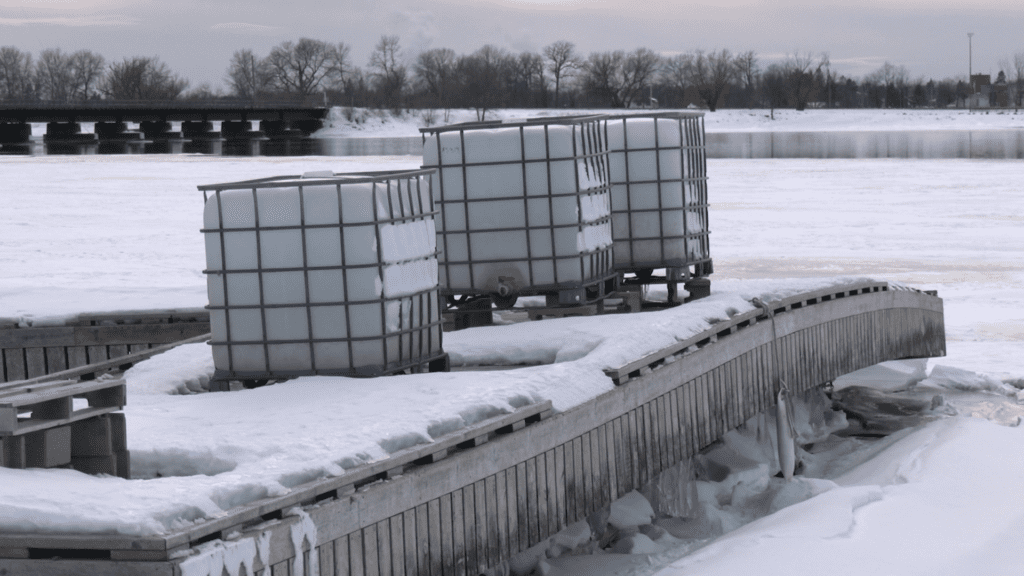 While conditions can change, this year's flood outlook for the Rainy River Basin is not as threatening as 2022.
"We don't think for the Rainy River Basin that we're going to see as bad a flooding," said National Weather Service Warning Coordination Meteorologist Joe Moore. "They actually have near to actually slightly below normal snowfall amounts up there on the international border for the Rainy Basin. And while that doesn't mean they won't see flooding, it does mean that the chances are a lot less."
To help navigate flood risk for this year, the committee got permission from the International Joint Commission to go about the March 10 decision differently this year.
"Instead of doing a high flood risk rule curve decision on the 10th of march, we're going to do a spring regulation decision," Swenson explained. "Basically, what we're doing is we're actively managing the water levels in the lake. So this new interim rule that we got from the commission allows us to widen our rule curve a little bit and to have more flexibility with how we manage water levels as we see the conditions unfold in real time."
The committee released their decision on Friday, along with a 79-page, fully detailed draft of their 2022 post-flood report.
"It's far more detailed and we are accepting comments on that and we would welcome local community members' comments," said Swenson.
For this spring's flood potential, the weather conditions for the next two months are crucial.
"Each spring is different, and the spring snowmelt flooding that we see is really driven by the weather that we're going to see in the next 6 to 8 weeks over the rest of March and into April," Moore emphasized. "If we have a little bit drier pattern, if we have a dry couple of weeks because we can have days when we're above normal, above freezing during the day and below freezing at night to kind of gently thaw out this snow, gently melt it."
There will be another spring engagement meeting on April 11th.
"We'll know better about the snow water equivalent, how the snowpack is melting," said Swenson. "And we'll have better predictions on what the temperature is going to be over the over the coming weeks to be able to to populate our models, to be able to predict what's happening."
The Water Levels Committee will be accepting public comment on their 2022 Post-Flood Report until April 3.