Storm Track Fall Color Watch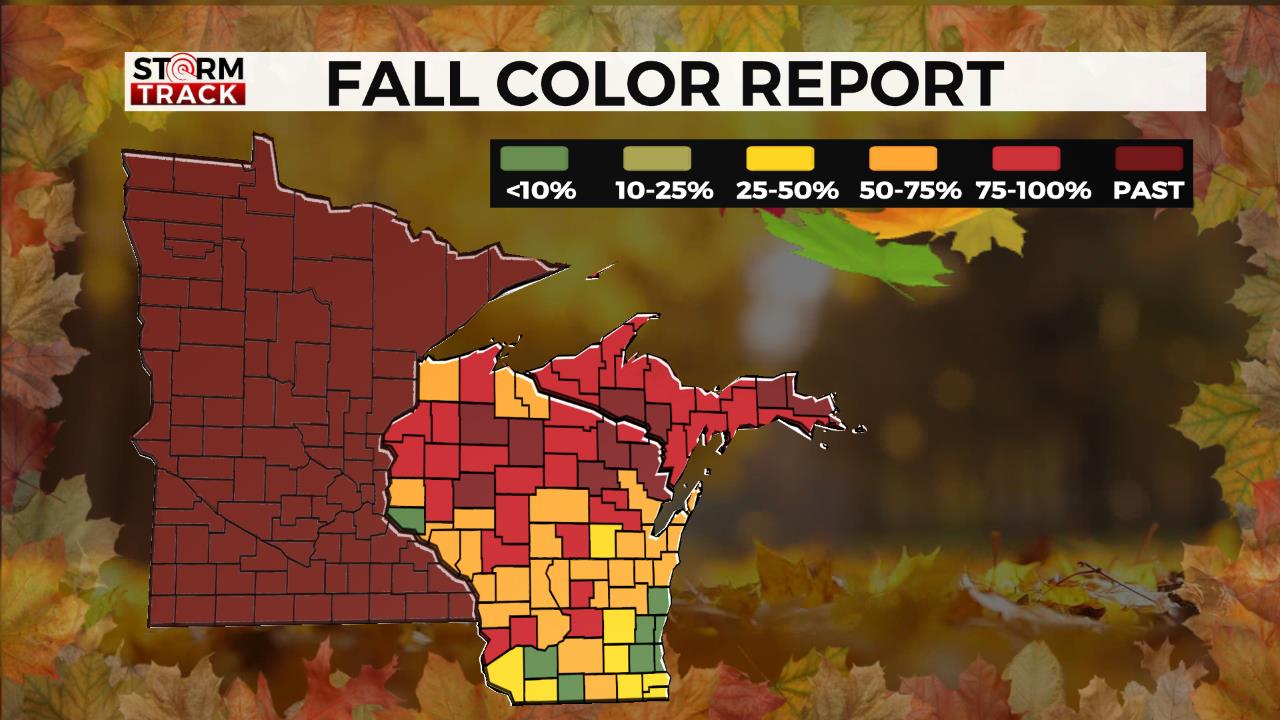 The fall color season is getting underway nicely! According to the Minnesota Department of Natural Resources and Travel Wisconsin, we're starting to see 50-75% change on the map as of Friday, September 22.
Gorgeous photos are starting to come in from Oberg Mountain. Grand Portage State Park in Cook County is reporting 50-75% color change. These conditions are also reported in parts of Pine County by St. Croix State Park. Hurley in Iron County, Wisconsin is reporting 65% change with peak expected for the 4th week of September.
The rest of the Northland is reporting at least 10-25% change with 25-50% as the most widespread range currently reported in northeast Minnesota and northwest Wisconsin.
Due to our drought conditions, our fall colors may be fleeting this year. We have received reports already of some trees displaying their full color change.
Different types of trees peak at different times, with varying color. Oak trees tend to be deeper red and peak a week or two after maples, which have a bright red foliage. Aspens and poplars peak even later, turning bright yellow.
Keep an eye on the forecast and the calendar. Peak fall colors vary depending on location. Typically, the northern third of Minnesota peaks mid to late September through early October. Northwest Wisconsin could see peak colors by the second week of October.
Remember though, once the leaves start changing, the fall color only lasts a few weeks. Don't wait to get out and enjoy the colorful fall folliage.
If you have photos of fall colors that you would like to share – send to weather@wdio.com and on Facebook and Instagram.

Farmer Doug – Pumpkin patch, apple cider pressing, apple and pumpkin treats, farm tours, and more in Duluth.
Simek's Farm – Playground, Produce, Corn Maze, Hay Rides, Farm Animals, Cafe, Gift Shop, and PUMPKINS! In Kelsey, Minnesota
Cowhorn Crossing Farm – Pumpkin patch, corn maze, haybale maze, hay rides, snacks and refreshments, picnic area, petting zoo, farm animals. Opens September 24 – October 31. Thursday – Sunday in Grand Rapids.
The Burch Barn – Pumpkin patch! Enjoy bounce houses and 100 foot gunny sack slide, Derby Horse racing and giant corn pit. Spend time at the petting zoo, pedal carts and so much more!
Mommsen's Harvest Hills Pumpkin Patch & Apple Orchard – The 40-acre farm offers hours of entertainment. Featuring two corn mazes, a petting farm and kids entertainment area, weekend hayrides, pumpkin artillery, crafts, and more.
Whoopsa Daisy Farm – Hayride, tractor playground, yard games, crafts, picnic food, farm animals in Duluth.
Lendt's Pumpkin Patch – Pumpkins, Hayrides, Photo Ops, & More!
Peaceful Pines Farm – Pumpkin Patch and Apple Orchard in Late Sept. thru Oct. It is an affordable, family focused place to visit.
Ru-Ridge Corn Maze – 8 acre corn maze with lots of fun family activities. Corn pit, petting zoo, games, horse rides, hay rides, pumpkin painting and much more in Carlton.
Oulu Corn Maze – Hop on the wagon for a hayride up to the corn field. Once at the maze you will begin your hunt for the hidden posts. After your adventure, stop back in the barn for some warm apple cider or a cup of hot cocoa.
Country Corn Maze – Have fun getting lost in the corn maze, enjoy the many farmyard activities, bale castle, and mazeyard activities. There is a hayride and campfire.
Stoney Brook Farms – It's the Worlds Largest Corn Maze! Come out and get lost, grab a pumpkin at our patch, play in the giant corn pit, grab a bite to eat at the food trucks and have fun with all of our activities!
Pike's Corn Maze – There's a corn maze and straw castle, plus hang out with the farm animals. There is a hayride, pumpkins, corn pit and spooky tree trail.
Gilby's Nursery & Orchard – Fall Harvest / Apple Festival / Renaissance Theme – Come and find your perfect pumpkin and squash. Enjoy the hay rides, corn maze, hay bale playground, walking trails.
Maple Run Orchard – Stop by the little orchard on the banks of Pine Creek to pick up a bag of crisp, juicy Honeycrisp or SweeTango, and some maple syrup and honey.
Bayfield Apple Company – The beautiful Orchard Store has fresh fruit and seasonal vegetables! It's also stocked with a wonderful selection of small batch jams, jellies, fruit butters, fruit mustards and apple cider.
Erickson Orchards and Country Store – Family owned apple orchard and strawberry farm since 1954.
Apple Hill Orchard – Pick your own and pre-picked Cortland apples along with apple crisp, apple pie, and caramel apples!