Lost 40 SNA joins Old-Growth Forest Network
In October, the Lost 40 SNA became the first forest in Minnesota to join the Old-Growth Forest Network.
Located about half an hour west of Bigfork is a forest known as the Lost 40 Scientific and Natural Area. The 114-acre Lost 40 SNA includes 32 acres of old-growth pine forest.
"Some people might know 40 as one of the smaller units of a public land survey," said Minnesota Department of Natural Resources SNA Management Specialist AmberBeth VanNingen. "It's just kind of a colloquialism. Like, talk about the back 40 or the front 40. It might not actually be 40 acres."
40 may be a misnomer, but the Lost 40 was at one point a little lost.
"The reason we call it that is that when the Public land survey came through in the 1880s and they were plotting out land, we don't know why, but this stand of trees was mapped as part of Coddington Lake, which is a couple of miles away," VanNingen explained. "We don't know why that is. We can speculate. You might read stories about people being out in the wilderness too long or snowstorms or things like that, but in truth, we don't know why it was missed, but it was because it was missed, it was not logged during the logging era in the late 1800s or early 1900s. It was just left alone, and so now this lost 40 has been found. We recognize it as an important old-growth forest."
The surveying error was corrected in 1960 when the site was re-surveyed. Shortly after, the Lost 40 was incorporated into Big Fork State Forest. In 1995, the DNR designated it as an old-growth forest. The oldest trees are about 250 years old. To be designated old-growth in Minnesota, trees must be at least 120 years old.
"So these trees, some of them are twice as old as what we would even consider old-growth in the DNR," said VanNingen. "Those are the big trees that you're going to see in ones up in the canopy and even super canopy. You're also going to see a big diversity of other things like Balsam fir and white spruce. There's some sugar maple in here. There's paper birch, and several other species as well. Those are all just a component of the forest, just as much as the big old trees."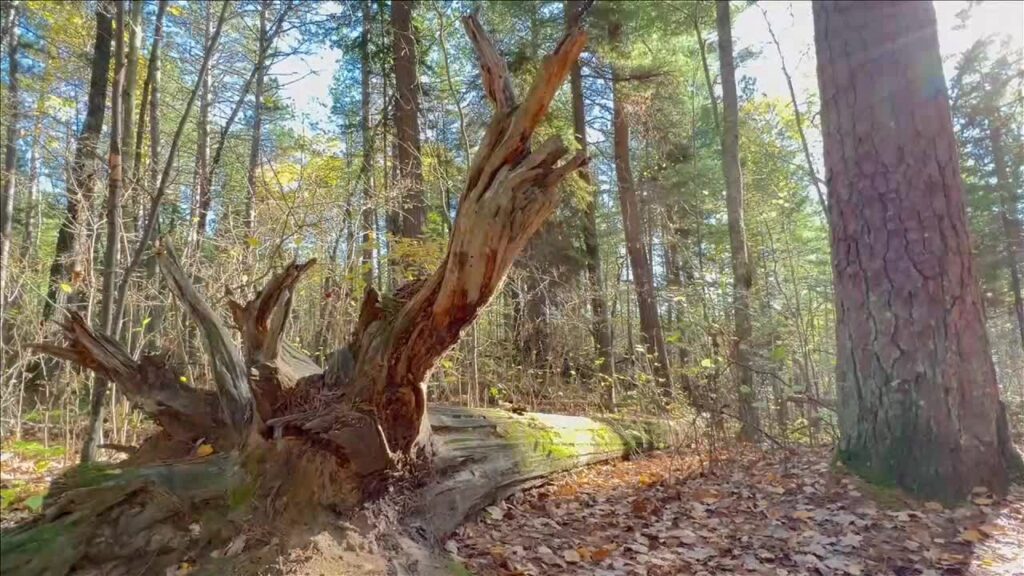 Nick Sanchez traveled to the Lost 40 from Chicago to recognize the forest as a new addition to the Old-Growth Forest Network.
"We actually partner with a lot of managing organizations across the country. What we're trying to do is create a network of where these places are, looking at places that are protected and publicly accessible and as old as possible," Sanchez explained. "So old growth is kind of what we're looking for in recognizing out on the landscape so that we can help people kind of get out to incredible forests like this one."
The DNR led a one-mile interactive hike through the Lost 40 SNA to celebrate this designation.
"I could not believe the size of some of the red pine and the white pine out there and just the feel of the forest, its complexity, you know, all the fallen trees, the giant trees, and all of the interesting characteristics in the forest floor, different funguses birds flying around," said Sanchez.
This is the first site in Minnesota to be added to the Old-Growth Forest Network.
"For us, it raises the stature maybe of it a little bit," said VanNingen. "This is a really popular site already, but hopefully, more and more people will hear about it, explore it, and think about what it means to be an old forest, what this landscape used to look like, the animals, the people, the plants that have lived here and still live here today."
One day after the Lost 40 SNA was added to the Old-Growth Forest Network, the Itasca Wilderness Sanctuary SNA in Clearwater County joined the network. Located within Itasca State Park, the 1,600-acre natural area was the 226th addition to the Old-Growth Forest Network. The organization hopes to eventually have one designated forest in every county.
"We are looking across the country to try and figure out where that best site within each county might be, and so working with volunteers and agency staff and organization, other organizations, experts to kind of figure out where these locations might be and then kind of weighing them against the others within that county and kind of figure out which one rises to the top as far as what might be the best representative example for that county," said Sanchez.
If you think an old-growth forest near you deserves the honor of being designated as part of the Old-Growth Forest Network, you can nominate a forest at this link.