Duluth Hillside fire contained, investigation underway
On Wednesday, firefighters were on scene of a fire in Duluth's Hillside neighborhood. The fire took place at 5:37 PM on the inside of the Lake Superior Medical Equipment Building at 522 E Fourth Street. Crews continued to work on the fire throughout the night.
On Thursday, Chief Shawn Krizaj held a press conference to update the city on the fire. Chief Krizaj said firefighters were able to keep the fire contained to the Medical Supply building. He said some of the neighboring buildings will have smoke and water damage.
Due to heavy fire, investigators were not able to get into the building on Wednesday night, and as of Thursday afternoon, Fire Marshal Consie says they were still not able to make entry into the building. Consie says the building is "condemned for habitation as of right now. The fire displaced four residents that live above the commercial business." Marshal Consie says the Red Cross is helping those residents.
There were approximately 38 fire fighters on the scene, including extra command staff. Chief Krizaj says 22 off-shift firefighters came in to help make sure the rest of the city was covered if needed.
The cause of the fire is under investigation and they are actively pursuing leads.
WEDNESDAY NIGHT: Authorities say The City of Duluth's Public Works Department shut off the gas to the entire 500 block of Fourth Street after the alert to protect the area. Minnesota power also shut off electricity in the area as well.
However the wind caused a major challenge for firefighters as it fueled the blaze. So much so that the Duluth Fire Department had to call in assistance from the Superior Fire Department and the 148th Wing's fire department.
Superior supplied a ladder truck to assist in aerial firefighting, while the 148th supplied an air trailer that helped refill firefighter air canisters.
As of 8:35pm the fire was confirmed to be contained where it originated. Fire Chief Shawn Krizaj stated that the fire did not spread to the other building adjacent to the medical supply building.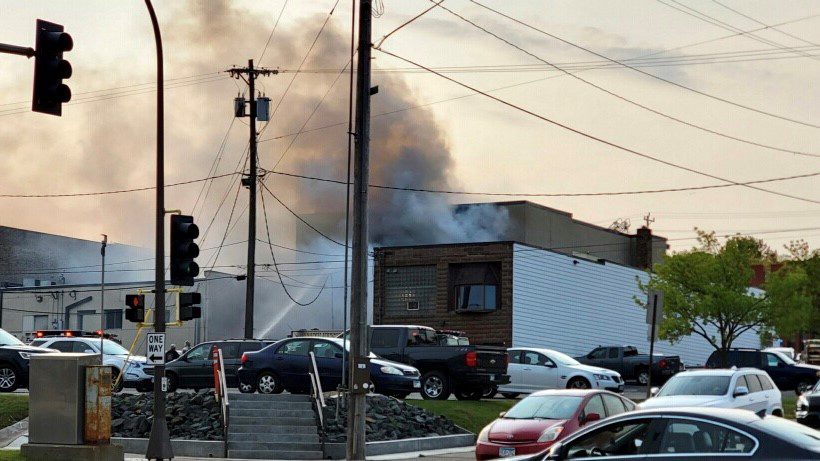 There where four apartments located above the building, those residents where safely evacuated and no injuries were reported at this time. The Duluth Fire department states that the cause of the fire is still under investigation.