Building condemned; victims' family shares loss
The City of Duluth has condemned the Hillside neighborhood building where a fire killed two people Saturday morning.
No information has been released as to when the building would be demolished at this time.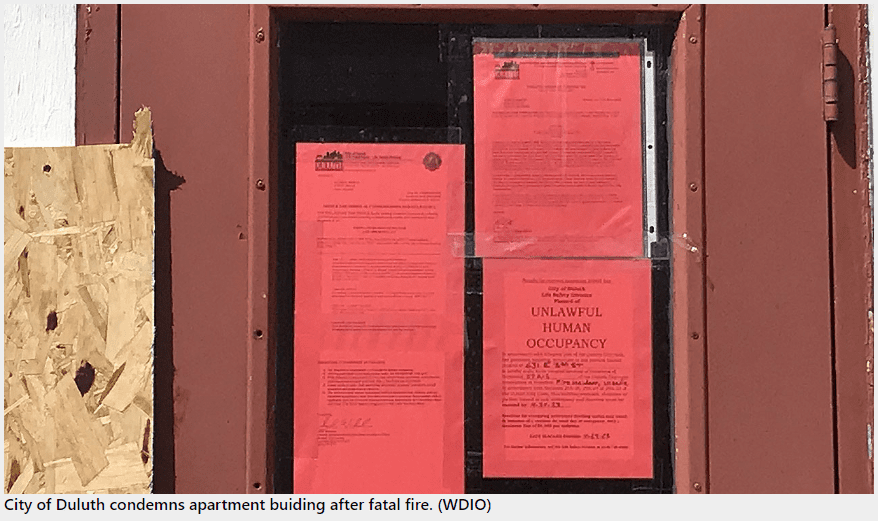 The fire took place at 631 E Third Street, a two-story, eight-unit apartment building in the Hillside neighborhood of Duluth. The building sustained significant damage, and much of the roof collapsed.
Related Story: Victims identified in Saturday's fatal apartment fire
Michelle (Micki) Kathleen Olson and her son, 24-year-old Patrick Arthur Olson, passed away when the fire broke out just before 6 am that morning.
"She had a generous heart. She would give everything that she had. If she had little, she would give it to anybody that needed it; and that flowed right down to Patrick. He had her generous heart," said Michelle's sister and Patrick's aunt Mara Spaeth.
The apartment complex also had two previous fatal fires take place inside the building, one happening in August of 2020 and another in April of 2021. Those fires caused little damage to the building, and after inspections, tenants were allowed to move back in.
Related Story: Duluth apartment fire survivors describe harrowing experience
The owner of the building, John D. Ramsey, shared off camera with WDIO how he was able to rent out his building again after previous fatal fires. "It was condemned, and then I had to fix all the issues. It was licensed before that. Once it burned, how a fire started somehow, and it got covered in smoke damage. You got to take care of that, get rid of all the smoke damage, and fix whatever was damaged in the fire. Then they'll do the inspection of the whole building again."
After the the first and second fatal fires, Spaeth shared how her family was nervous about Michelle and Patrick moving back into the building. "We had a lot of hesitation when Mickey decided to move back in. All of her things were smoke damaged, and she had a hard time with that. There's terrible memory when you're coming back into that. We didn't see improvements in her area that had been made."
With the city now condemning the building, Spaeth reflects on emotions that she or someone might feel when looking at that apartment complex. "A lot of lives have been lost, and a lot of families have been affected by this. There's been sadness, and it's been terrible. It's been terrible seeing all these things happen time after time; I really hope that it's looked into very closely. Four deaths in one building within a three-year span is unacceptable."