Aaron Pike 5-time Grandma's Marathon Champion
For the fifth time, Aaron Pike takes home the Grandma's Marathon Men's Wheelchair title. Pike, from Park Rapids, MN finished with an unofficial time of 1:27:34.
"I love coming out here, this course never gets old," Pike told Dillon Morello at the finish. "This is the nicest course I have ever raced on."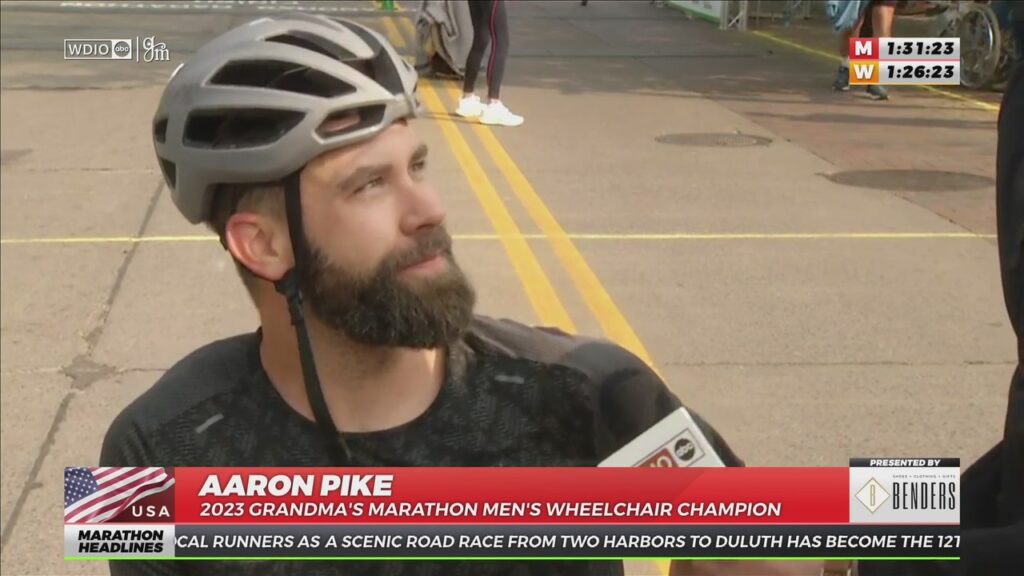 He says he still has a little bit of nerves because the race is a high-paced race.
"It's going to be a tough one, there's not a lot of climbing but you are averaging 19-20 mph on the really fast days," Pike said. "Today, was just below that. It was kind of a no-wind situation for most of it."
RELATED STORY: Fesemeyer is the Women's Champion in the Wheelchair Division
His 2022 finish was a tight race, beating Johnboy Smith by three seconds. Pike also came in first place in 2017, 2018, and 2019.
---
Grandma's Marathon Photo Gallery
WDIO's Brandon Weatherz speed-walks through Lemon Drop Hill.

Congratulations! Signage to pump up every runner.

You've heard it mentioned, this is the view from the notorious Lemon Drop Hill.

Grandma at the finish of Grandma's Marathon.

Getting started in Two Harbors.

Going Bananas on the sidelines.

A smile as they near the finish.

Bagpipes entertain the participants.

Lead runners in the Men's Division.

Wheeler

Excited for the finish.

Two crossing the finish line.

All smiles at the finish.

Lead wheelchair races at Lemon Drop Hill.

Broadcast car set up.

Health and weather conditions where at a low risk on Saturday.

Volunteers put the finishing touches on the start – very early in the morning.

Necessities. Need we say more?

Our hosts, Alicia Tipcke and Kara Goucher near the finish in Canal Park.

Happy at the finish of the Garry Bjorklund Half Marathon.

Crossing together, The finish of the Garry Bjorklund Half Marathon.