Returning Champion: Elisha Barno wins 5th Grandma's Marathon
Elisha Barno of Kenya is the champion of the 2023 Grandma's Marathon with an unofficial time of 2:09:14. This is a personal best for the 38-year-old. He was already the winningest men's runner in Grandma's Marathon history and now has a fifth title under his belt.
Barno wanted to thank Grandma's Marathon for inviting him to race this year. "I am very happy for winning today and running my PR," he said.
"Grandma's is nice weather and we are running through the forest," Barno says.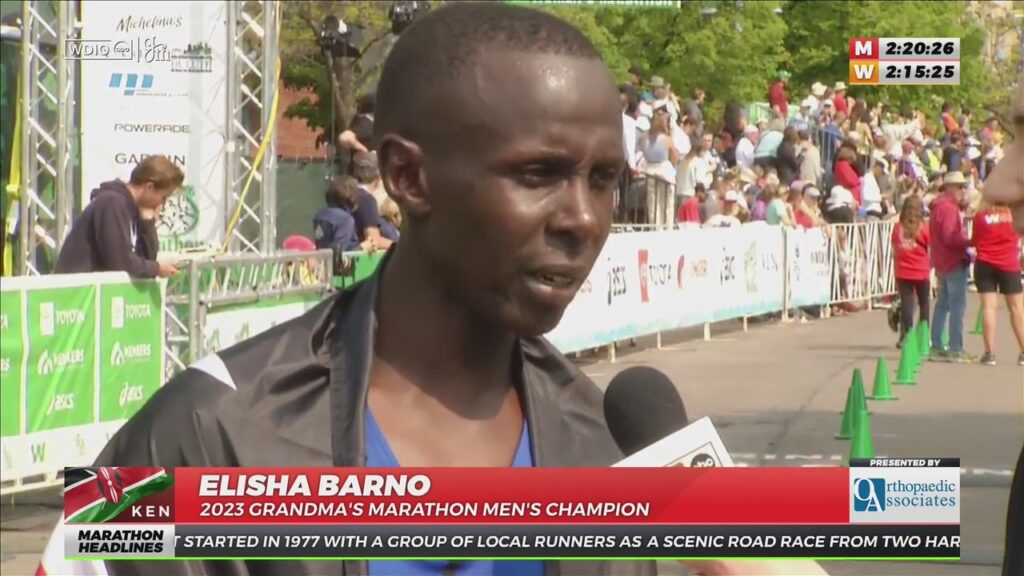 Running is about training," when you get older, the problem is about injuries. When you train well and you don't get injuries, you can run good here."
RELATED STORY: New Women's Champion, first marathon for Lauren Hagans
Barno won four straight titles from 2015-2018. This is his seventh appearance in Grandma's Marathon.
Barno will also be honored at this year's race by being inducted into the Grandma's Marathon Hall of Fame as part of a three-person Class of 2023.
---
Grandma's Marathon Photo Gallery
WDIO's Brandon Weatherz speed-walks through Lemon Drop Hill.

Congratulations! Signage to pump up every runner.

You've heard it mentioned, this is the view from the notorious Lemon Drop Hill.

Grandma at the finish of Grandma's Marathon.

Getting started in Two Harbors.

Going Bananas on the sidelines.

A smile as they near the finish.

Bagpipes entertain the participants.

Lead runners in the Men's Division.

Wheeler

Excited for the finish.

Two crossing the finish line.

All smiles at the finish.

Lead wheelchair races at Lemon Drop Hill.

Broadcast car set up.

Health and weather conditions where at a low risk on Saturday.

Volunteers put the finishing touches on the start – very early in the morning.

Necessities. Need we say more?

Our hosts, Alicia Tipcke and Kara Goucher near the finish in Canal Park.

Happy at the finish of the Garry Bjorklund Half Marathon.

Crossing together, The finish of the Garry Bjorklund Half Marathon.