Essentia announces merger with Marshfield Clinic Health System
Essentia Health and Marshfield Clinic Health System have announced that the two health systems are forming a new integrated regional health system. The groups say the agreement is the last step in the process that keeps the organizations on track to come together formally by the end of 2023, pending regulatory approval.
"We are both physician-led organizations with an unwavering commitment to the health of rural communities," said Essentia Health CEO Dr. David Herman, who will serve as chief executive officer of a new parent company. "Our complementary capabilities will allow us to learn and share with one another to better achieve our collective mission."
"Discussions the past few months have made it clear that this is an incredible opportunity to enhance both health systems, solidify our futures, and take patient care and services to an even higher level," said Dr. Susan Turney, who previously announced plans to step down as Marshfield Clinic Health System CEO this fall. "It represents an opportunity to expand access to care, diversify the services we provide and deepen our community-based work."
Essentia and Marshfield Clinic say they are combining strengths to advance the level of healthcare in Wisconsin, Minnesota, Michigan's Upper Peninsula, and North Dakota. The new regional health system will bring a network of 3,800 providers and 150 sites of care, including 25 hospitals.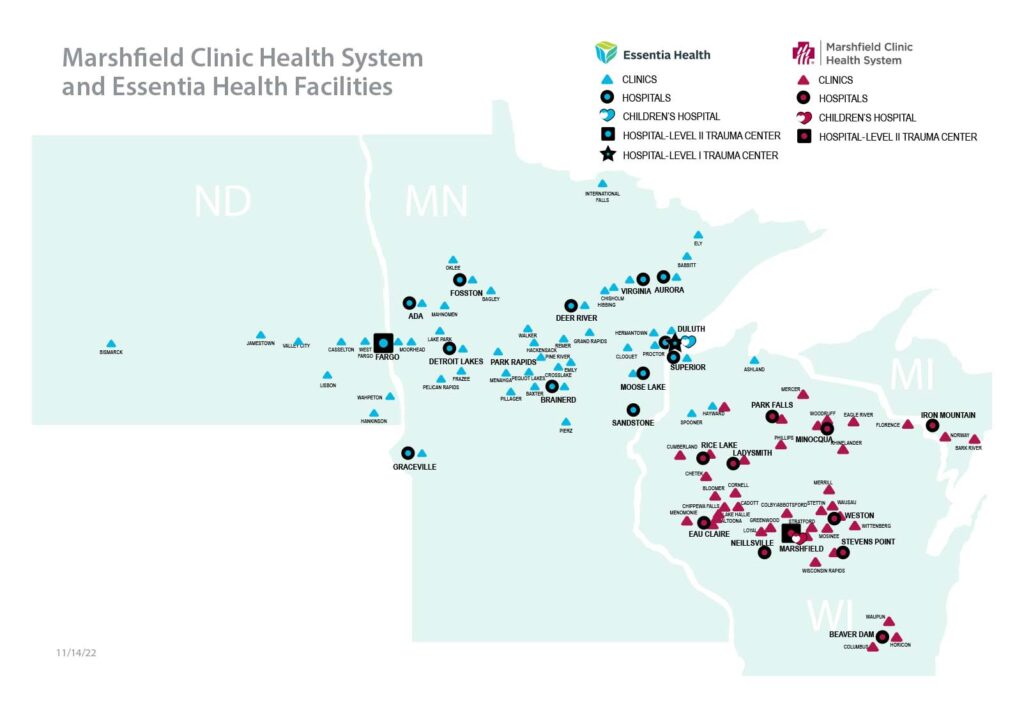 "While work remains to finalize our new relationship, this is another positive step in our journey to define the future of health care, and to fundamentally transform rural health care in America," Dr. Turney said.
"Each time I meet with our Marshfield colleagues, I am excited for our future together and what we can build and sustain to better serve our patients, communities and colleagues," Dr. Herman said. "Times are undeniably challenging for rural health care, yet I am certain we can meet those challenges more successfully together than we can separately."
The integration agreement was preceded by the signing of a memorandum of understanding in October 2022.