UPDATED: City closes roads in Duluth due to flooding
On Friday morning, Duluth officials provided an update to area road closures due to flooding. The City says crews from the Public Works and Utilities Department worked through the night to clear out culverts that have caused flooding in Duluth. Residents and drivers need to be aware of road conditions and detours put into place as they go about their day.
Video from Maple Grove Road and Mall Drive on Thursday evening.
As of noon on Friday, Roads temporarily closed due to flooding:
The intersection of Mall Drive and Maple Grove Road
West Water Street is barricaded and signed as local traffic only. Barricades have been placed at the intersection of Highway23 and West Water Street.
Portions of Norton Road, including the 2700-2800 blocks of Norton Road, which is currently closed due to road damage and will remain closed until repairs can be completed and the road made safe to pass. Details of this particular closure are in the map below.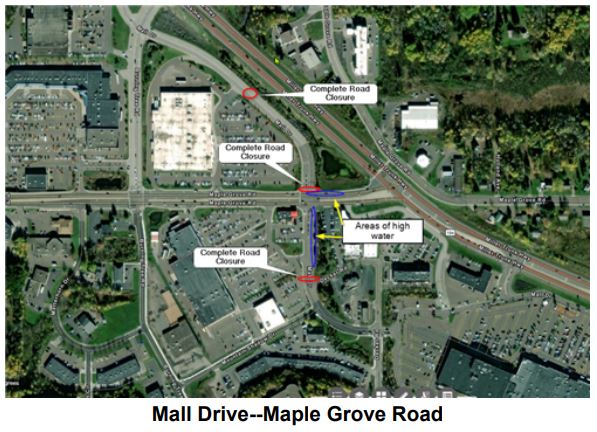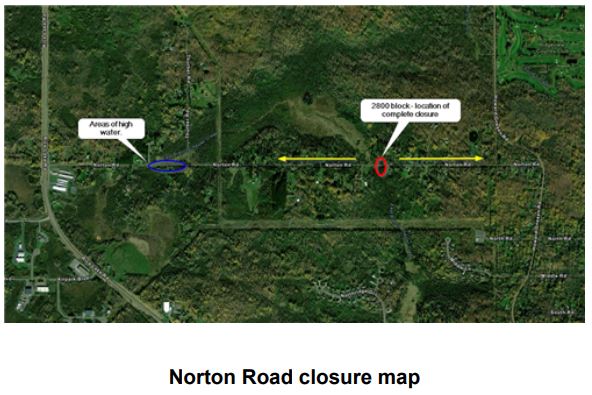 Local traffic only will be able to access the partially-closed portions of Norton Road as follows:
Residents on the 1700 to 2800 block of Norton Road will be able to access their homes from the Howard Gnesen Road entrance.
Residents on the 2800 to 4000 block of Norton Road will be able to access their homes from the Rice Lake Road entrance.
RELATED STORIES: Pionk Drive in Proctor temporarily closed to traffic
Spring thaw causes another road closure in Meadowlands Twp.

According to the City, emergency staff are assisting residents along Norton Road to access their homes. They ask residents in this area should call 911 if they have any emergencies and Duluth Fire and Duluth Police will ensure emergency vehicles can get to them.
Roads will reopen when it is safe to do so. Do not drive through standing water, as doing so can be very dangerous.
If you come upon flooding while driving, please call 911 to report it.