Parts of the South Shore enter exceptional drought
The ongoing drought continues to worsen with parts of Lake Superior's South Shore now in exceptional drought conditions. Thursday's report from the U.S. Drought Monitor cited that Superior has received 4.71 inches of rain since May 1 which is the driest on record.
The USDM is a joint effort by National Drought Mitigation Center at the University of Nebraska-Lincoln, the National Oceanic and Atmospheric Administration and the U.S. Department of Agriculture. It is updated on Thursday mornings with data from observations made at 7 a.m. CST on Tuesdays.
Drought intensity is measured in increments from D0 to D4:
D0 = Abnormally Dry
D1 = Moderate Drought
D2 = Severe Drought
D3 = Extreme Drought
D4 = Exceptional Drought
The most noteworthy change to Thursday's report was that northeast Douglas County and far northern Bayfield County entered D4 – exceptional drought. This is the first time D4 has been observed in the state of Wisconsin since the USDM began in 1999. The area of extreme drought (D3) also extended a bit to reach from eastern Carlton County to Ashland.
Other areas of persisting extreme drought since last week's report include an area of Washburn County into western Sawyer County and much of Crow Wing County into southwestern Aitkin County.
Severe to moderate drought (D2 to D1) has continued rather unchanged for the majority of the rest of the Northland. There is a small area of northeast St. Louis County and northwest Lake County that is still not officially in a drought stage, but is abnormally dry.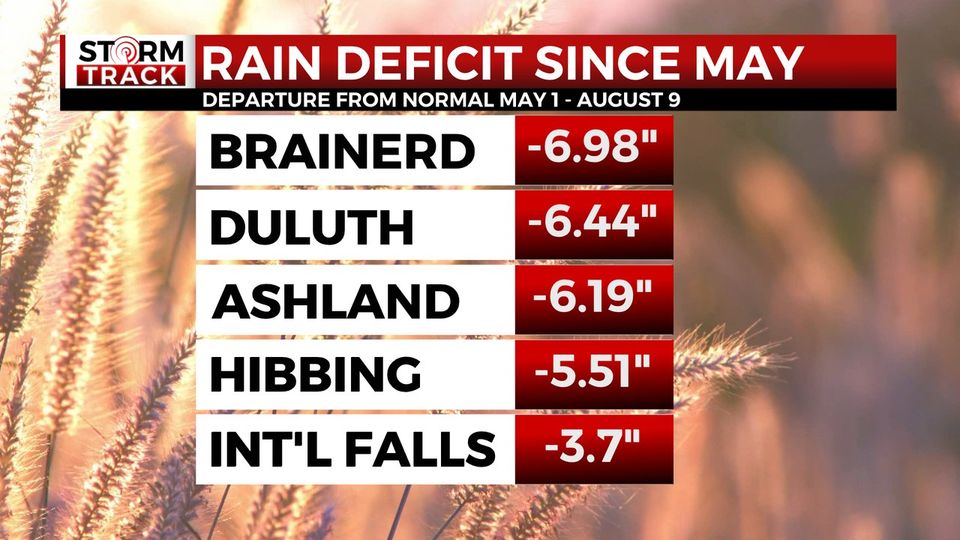 Our Storm Track Weather team looked into how far we've fallen from average since May for our official climate sites in the region. From May 1st through August 9th, Brainerd has a deficit of -6.98". Duluth's deficit is 6.44." Ashland is 6.19″ short of average. Hibbing's deficit is 5.51". International Falls has fared better than the rest since May, but is still 3.7" below normal.
Each day without measurable precipitation allows that deficit to grow. Duluth's normal daily rainfall right now is 0.12". Over the next week, normal would be 0.86". That means we need almost an inch in the next week just to stay where we're at right now.
That's why a couple of rounds of rain in the forecast isn't enough to bring relief. What we need is a stretch of days where each one brings above average rainfall. Until we get that, the drought will continue. With that in mind, there's no end in sight.
Check the forecast here.