St. Louis County announces arrival of 10 new snowplows
On Wednesday morning, St. Louis County Public Works announced the arrival of ten new snowplows. 
"The sun might be shining right now, but it is the season for these vehicles to be in action," said St. Louis County Public Works Chair and Commissioner Keith Musolf. "The trucks are the latest and greatest with many ergonomics and efficiencies to best use tax dollars and spend appropriately for what is a true emergency vehicle. We hear a lot of different terms out there in emergency vehicles. But as we know as Northlanders, snow events are emergencies as well, and this is tax dollars in motion appropriately for our residents."
The county has around 120 trucks on the road per snowstorm to maintain St. Louis County's 3,000 miles of roads. With a vehicle life expectancy of approximately 12 years, it is typical for the county to replace 10 a year. Each new snowplow cost $335,000, including the snow removal equipment.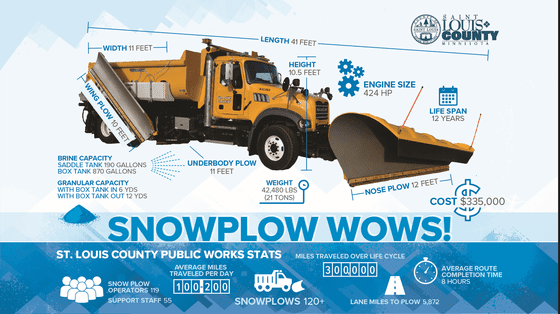 "These are a significant investment in safety for our citizens and our staff," said Chad Skelton, St. Louis County Public Works Fleet and Property Manager. "We appreciate the County Board's commitment and support that makes it possible for us to maintain a quality fleet of vehicles to better serve the traveling public."
Taking employee and operator feedback seriously, the county has an equipment team of managers and drivers. Many of the team's recommendations were incorporated into the new equipment, which has several features that keep both drivers and the general public safe.
"They have blizzard lights on the front, which makes it easier to see in blinding snow," said Skelton. "They also have three different onboard cameras that show different angles in the truck. It allows the operators to see what material is left in the box of their truck and allows them to see the different angles of their plow equipment, like their wing. It also allows them to see what's behind them, making it safer for our employees and the people out on the road."
A bird's eye view shows another unique feature: an integrated wedge-shaped tank that allows the operator to dispense material without having to raise the bed of the truck. Like the rest of the snow removal equipment on the dual-tandem trucks, the tank is removable. This allows the vehicles to be used year-round, transporting gravel and other needed materials in the summertime. The wedge shape also provides the capacity to carry more brine.
"We had a challenge with our old truck design where our operators had to come back to the garage multiple times a day to keep reloading the side tanks because there wasn't enough capacity," said Skelton. "These trucks have a removable 1000 gallon tank that's inside the box of the truck, which allows them to stay out on the road during their whole shift, which makes it more efficient to plow the roads during the day."