Precip observers wanted: NWS aims to keep Minnesota as the top-recruiting state
The National Weather Service is recruiting additional volunteer precipitation observers across Northeast Minnesota and Northwest Wisconsin. The NWS wants observers to join the Community Collaborative Rain, Hail, and Snow Network (CoCoRaHS).
"CoCoRaHS is a really cool community organization all across the country. It's actually international where we ask volunteers to sign up and report precipitation on a daily basis if they can," said NWS Warning Coordination Meteorologist Joe Moore. "But even if they can just report how much snow they have on the ground a few times a winter, that is great and it collects all of the data together for us so that meteorologists and others can use the information."
Every March, CoCoRaHS has a "March Madness" competition to see which state can recruit the most CoCoRaHS observers. Last year, Minnesota won the CoCoRaHS Cup – a prize awarded to the top-recruiting state- for the third year in a row, and for the first time placed first in the nation for per capita recruitment.
The Duluth National Weather Service office is looking to continue their success by recruiting more precipitation observers in the Northland.
"CoCoRaHS is a great way to be a citizen scientist. The National Weather Service has a couple of volunteer observers, but we're not everywhere and but want to know the weather everywhere," said Moore. "We do have some automated weather stations or some backyard weather stations you can get, but nothing is better than a really nice, affordable gauge to measure the rain."
From the International Border to the North and South shores of Lake Superior, across the Iron Range and
Brainerd Lakes, down the I-35 corridor, and across the Northwoods of Wisconsin, volunteers are needed to report precipitation, snowfall, and snow depth/snowpack liquid water equivalent.
Daily reporters are of greatest help, but even those who can volunteer to just send occasional reports of the snowpack depth are welcome to sign up. All that is needed is 5 minutes a day for an observation, and
the standardized rain gauge, which costs about $35.
"The reason we use this style of rain gauge is that it's very accurate and it's really easy to use," said Moore. "It's got a four inch opening on the top, which is a little larger than a standard, you know, cheap range that you might get. And it's got a funnel that then funnels into a really small inner tube that's very easy to read. So there's nice markings in there and this measures up to an inch. If you've more than an inch, then it overflows that you have to kind of dump it a few times, but the number of times you get more than an inch is pretty rare."
The NWS wants more observations so they can better predict flooding, verify snowfall and precipitation forecasts, and fill in their observational dataset to have a better understanding of what exactly happened when winter or summer weather hits. Good "ground truth" observations of precipitation, snowfall, and snowpack are needed to make better forecasts.
While there are already volunteer observers in the area, more observations are always needed, especially in rural areas where there aren't any observers.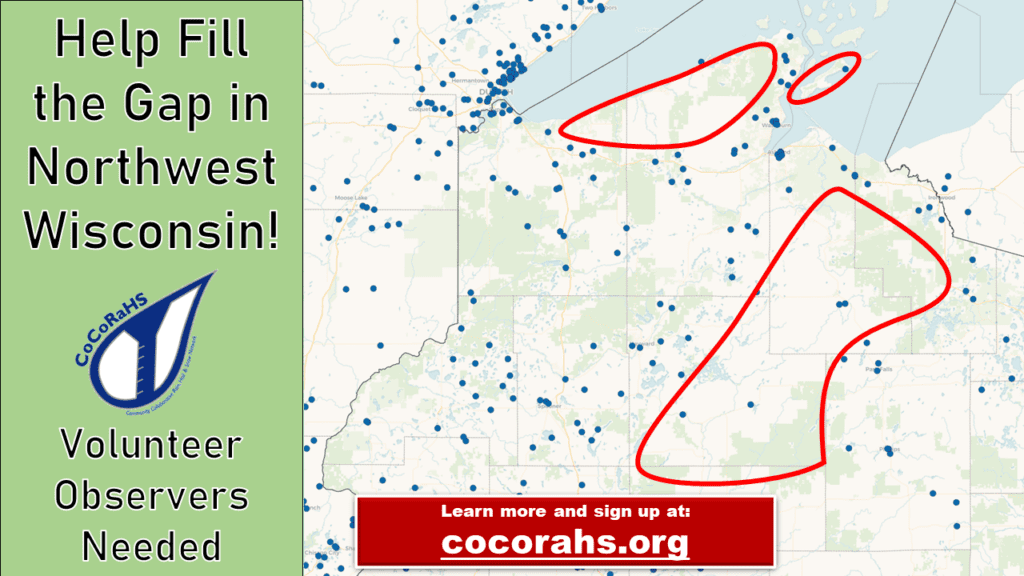 Without many ground truth observations, forecasts and outlooks are based primarily on simulated precipitation and snow which is interpolated from observations far away. These may not accurately represent regional conditions, and rarely capture local maximums.
CoCoRaHS observers measure rain, hail, snowfall, snow depth, and snow water equivalent.
"As we look towards the spring, we're looking at all of the water content in the snow and what it's going to look like when it all melts down and what kind of flooding we could see," Moore explained. "So we do ask observers to measure occasionally, just once a week on Mondays, we usually ask them to measure the amount of water in the snowpack."
Even if there is no precipitation, a daily observation provides crucial information.
"Those zeros that we get each day are so important because they really help us measure when there is a drought, we can know, Oh, wow, This place has not seen much rain in weeks," said Moore. "And when you put those zeros in every day, then we get a reliable measurement of of when it has rained and when it hasn't."
The information provided by CoCoRaHS observers is considered official and trusted.
"The data collected by CoCoRaHS goes to the National Weather Service, but it goes out and is used by so many others. It's used by our hydrologists at the River Forecast Centers, and it's also used by those in other industries," said Moore. "So it might be used by FEMA to predict where a floodplain might be based on precipitation. It's used by the agriculture industry to understand drought."
Sign up for CoCoRaHS here. The official CoCoRaHS rain gauge can be obtained here. Anyone with questions is encouraged to email NWS meteorologist Ketzel Levens: ketzel.levens@noaa.gov