Summer of State Parks: McCarthy Beach
On a Monday morning, with a gentle breeze off Sturgeon Lake, McCarthy Beach was a serene, quiet scene. But a few hours later, it would be filled with kids playing and splashing in the water.
"McCarthy Beach State Park really is about a family experience," Park Manager Dawn Voges said.
The sugar sand beach is the gem of the park. But whether a family is headed there for the day or to camp for a week, there's a little something for everyone.
"Between the swimming beach, the old growth pine, the blueberry picking and raspberry picking that we have, as well as the opportunity to get out and fish and just wet a line, it really is a little bit of everything for the family," Voges said.
Horseback riding trails also connect with the George Washington State Forest. And there are 18 miles of hiking trails through woods and around lakes. In fact, McCarthy Beach State Park touches at least nine lakes, many of which are fully within its borders. Pickerel Lake offers trout fishing.
The beachfront on Sturgeon Lake was donated by the McCarthy family in the 1940s, and many of the old growth pines were planted in 1945 to memorialize the World War II veterans who were returning home.
Danielle Roseen of Trail, Minn., has been coming to McCarthy Beach for years.
"I love the beach. You can walk way far out and still be shallow. It's great for kids," Roseen said. "I bring my son here now. He loves it. He loves the beach."
The Minnesota DNR has also taken special care to make McCarthy Beach accessible. There is an ADA ramp down to the sand and a floating wheelchair available for checkout from 10 a.m. – 2 p.m.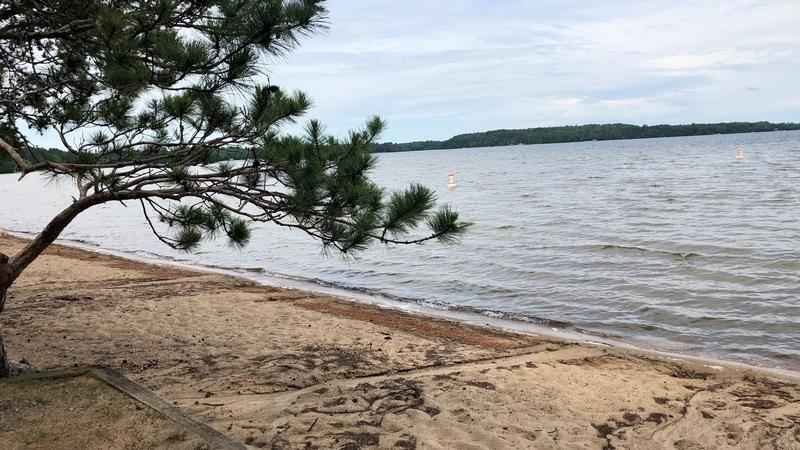 Voges said the majority of users are from the Range: Hibbing, Chisholm, and Virginia. But their reach is slowly expanding.
"We have been seeing some folks from Duluth and the Twin Cities kind of discovering it for the first time," she said. "But yeah, certainly it's a local favorite."
The campground closes in the winter, but there are still ways to enjoy the park. McCarthy has snowmobile, ski, and snowshoe trails when the snow flies.