"Big water" inspires woman behind Silverwaves Jewelry
Lissa Flemming talks about her creations at Silverwaves Jewelry in Bayfield, Wis.
Artists are flocking to the Bayfield area for a nine-day Art Escape. And makers like Lissa Flemming who live there year-round are excited to share the natural beauty that inspires.
Flemming has always lived by big water. That theme influenced her original career path in biology, bringing her to study marine mammals in Baja and lead sea kayaking expeditions in Mexico. Now, she owns Silverwaves Jewelry in Bayfield, Wis.
"All the things I've done have been leading up to this," she said.
There's still a little science in what she does. She had to learn some metallurgy, and the process has taught her not to be afraid to make mistakes.
"Let me tell you, I melted some serious silver," Flemming said.
Learning the craft wasn't the only challenge. Flemming also faced the loss of her mother.
"And she never knew I was going to do this. So I really think this was part of my grieving," Flemming said. "Everything that happens to us in life shapes who we are. And so the reason I am here doing this is because of that and my jewelry reflects all that. And so for that, I have to be thankful."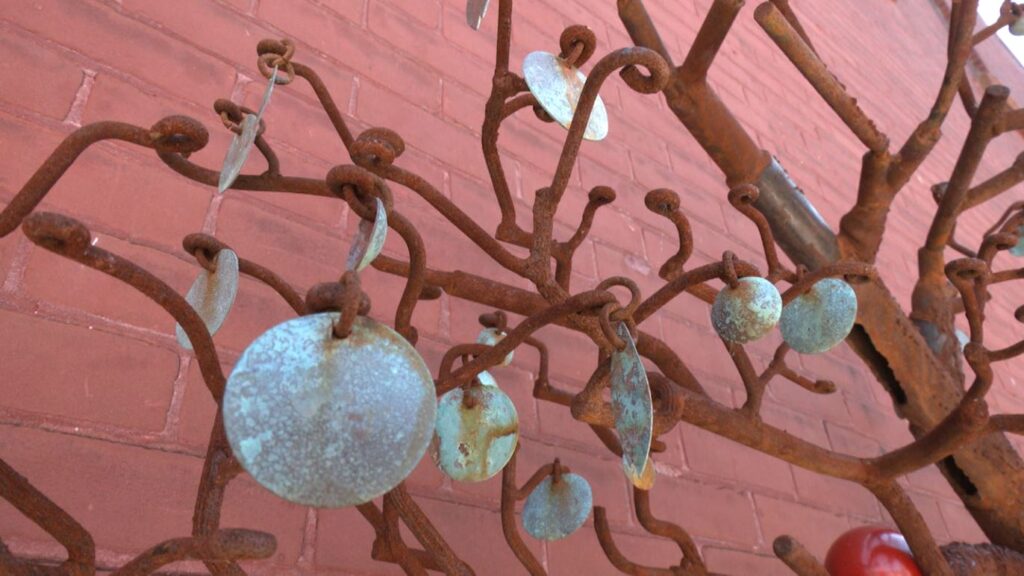 Her art and enthusiasm spills out from the gallery onto the sidewalk.
"I knew that I wanted a bench outside my new gallery," Flemming said. "But I wanted it to be more than just a bench. I wanted it to be art And I wanted it to bring some artists together."
The Lake Treasures bench was hand-welded by Jesse Woodward of Iron Apostle. A metal tree is attached, and each leaf will be designed by a different artist. Right now, there are leaves from artists in Bayfield, Washburn, La Pointe, and Duluth.
The tree was unveiled June 24, and she hopes it only grows from here.
Flemming hopes some of them will also spread their knowledge and craft in her teaching studio.
"This is yet to be written," she said. "I would love this to be a space where anyone can come in and teach whatever to whomever, and we can just support each other and get some art out there."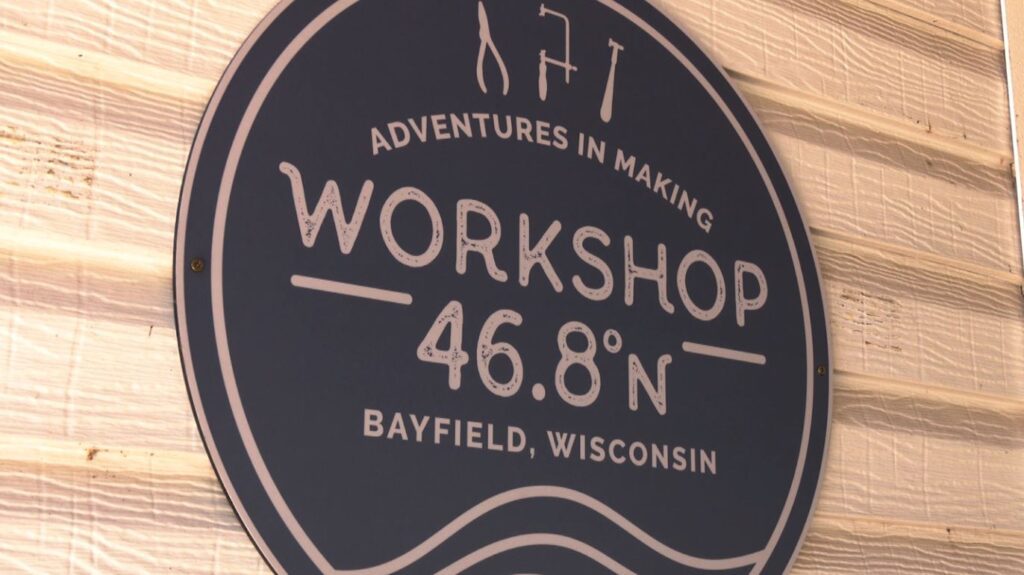 She's already got several classes planned throughout the fall and winter.
"We have a destination because we've got all these treasures of the lake, we've got the flora and the fauna and the water, sailing and kayaking. But we also have artists. And the artists are using all that inspiration to create their own things," Flemming said.
And having people purchase her creations is a dream come true.
"For me, to see people walking down the street with one of my pieces on, it's pretty cool. And I still almost can't believe this is happening because this has been the dream," she said. "People come in here, and they want to take a piece of their adventure home with them or their stop in Bayfield. To be able to come in here and honor me with purchasing a piece … that is a part of the lake, just because it's a part of the lake, but then it's a part of my thoughts on how it should look on your neck. You know, it's an honor."