Small Business Week: Yooper Wreath Company
Zach Wangelin's business has been built with balsam and birch.
"About six years ago, I started making Christmas wreaths and we started selling to wholesale florists, and then florists started to ask about birch products, dried products, twigs for decorating and stuff like that," Wangelin said.
Yooper Wreath Company may have started with humble beginnings, but Wangelin's products now ship from Ironwood, Mich., around the country, to states like New York, Ohio, and Colorado.
He, two full-time employees, and four seasonal workers still churn out thousands of fresh wreaths every year.
"There's a lot of sleepless days this time of year, very tiring days," Wangelin said. "But all reality, it's worth it."
Wreaths may be seasonal, but Yooper Wreath's birch products are a year-round business.
"We work with the Forest Service and also logging companies that clear cut timber lands and stuff like that. We also buy a lot of our material out of Minnesota," Wangelin said. "It gets brought in here in crates, and then we take it into our dry kiln where it dries for about a week, week and a half. And then we cut it down into whatever it needs to be cut into."
They make birch poles, sell birch logs in bundles, carve candle holders out of birch, cut coasters, and hand-dip birch twigs in paint.
"Working with the birch and everything you can do with it, that is my most favorite part of this job every day," Wangelin said. "It's my pride and joy, I could say."
His young business has grown pretty fast. This past summer, Yooper Wreath went from a 350-square foot building to a 3,000-square foot space. The new building even has a storefront, which opened Nov. 4. His in-laws help run it. His mother-in-law even offers craft classes on Saturdays.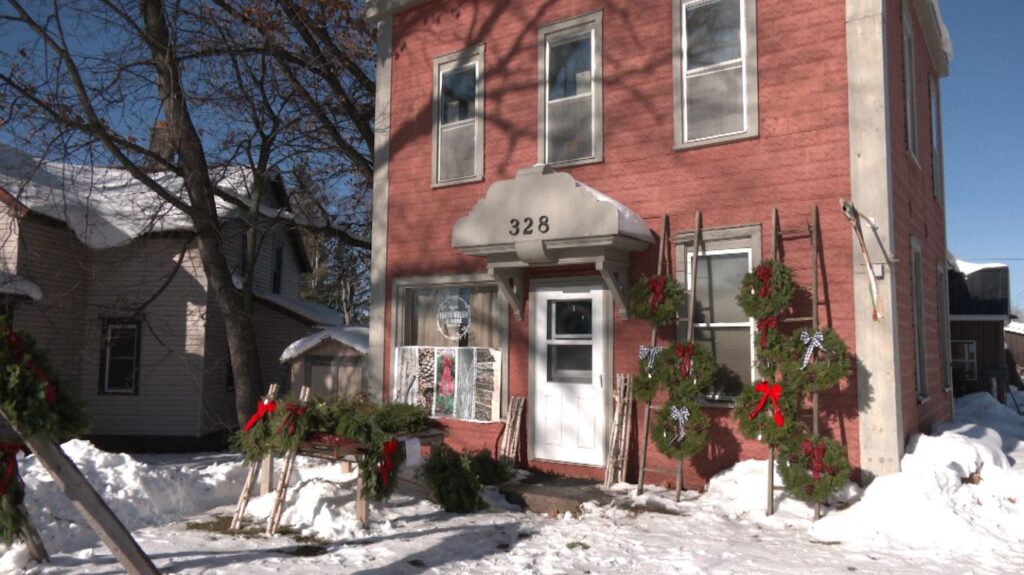 Wangelin said their business is a cycle.
"When Christmas ends here in December, we start building Christmas again in January," he laughed.
And he plans to keep that cycle going right in the UP.
"To live in Ironwood and be able to own a business like this, it's my pride and joy," he said. "I don't think I'd give anything up for it."