In good hands: Shaping the legacy of Eckels Pottery
Baihly Warfield spent the day in Bayfield, Wisonsin learning about pottery.
The Bayfield area is in the midst of a nine-day celebration of all things art. Bayfield and Madeline Island are hosting an Art Escape.
There are dozens of artists who call the Bayfield peninsula home. Sixty years ago, Bob Eckels started a small pottery studio and shop in Bayfield. And six decades later, his daughter Dede continues to shape the legacy of Eckels Pottery.
She had left the area for school and other jobs, but she and her husband Pete Skoro eventually came back.
"Bayfield itself has its own joy and charm," Eckels said. "I think my husband and I, we just wanted a place to land our feet after college and sort of see what was going to happen. We really didn't know exactly."
Pete found work, and they started to settle in.
"I was like, 'OK, Dad, can I stay and work with you?' because he had apprentices at that time. He said, 'Yeah, but you've got to remember: Working for your folks is not easy,'" Dede remembered. "I think he was harder on me than everybody else. But I loved it. I worked with him for 25 years."
She has degrees in art and teaching and said she enjoys working with clay because of its plasticity.
"I love the fact that it will stay where you put it, you know?" Eckels said. "And I have yet to find anybody who doesn't like playing with clay."
There's a window in the gallery so that visitors can watch the process of molding and shaping pots, plates, and more.
"There's this wonderful feeling of being able to create a space," Eckels said. "So when I throw pots, I'm really thinking about this inside space. I'm not creating an outside, I'm creating a volume of space inside."
After the pots are formed and dried, they're fired in a kiln that gets up to 2,300 degrees.
"I think you just have to have some sensibility to water and fire and earth to do this. It has to give you some sensibility to feel good with it and want to do it because it's a very hard way to make a living. If you want to make a living, be a stock broker. Don't be a potter," Dede laughed.
She can throw as much as 75-100 pounds of clay per day. Eckels' preference is to work with a white porcelain material so that she can paint on it.
"People ask, 'Well, what attracts the artists up here?'" Eckels said. "Well, what attracts us is the beauty. The natural environment, the lake. It's all inspiration to me."
"This summer, it's interesting to me how the raven has been something — everybody wants a raven. It's just been crazy. And I've been asking myself, well, why is raven so popular this year? And for me, the raven is a symbol of renewal. And it's the symbol of opening the mystery to life. And I think after COVID, everybody is going through a sense of renewal," she said.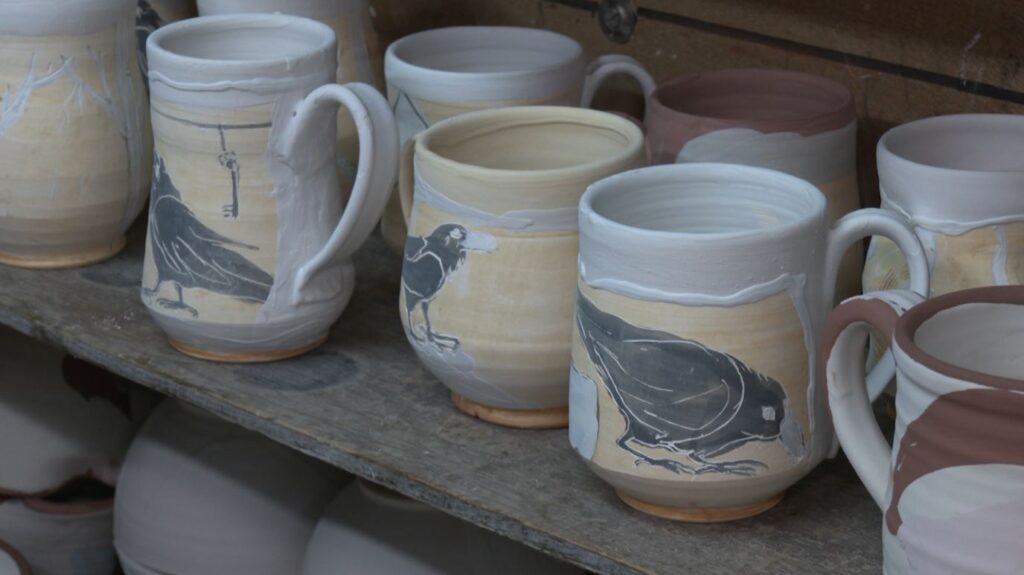 Dede and Pete give tours, have demonstrations, and host workshops at Eckels Pottery. They hope to open the Peninsula Pottery School there in the next couple of years.
"This is what we do. This is who we are. This is who we've been for many years."