Ice fishing safety with the Duluth Fire Department
Captain Kevin Haney of the Duluth Fire Department stopped by The Lift with some reminders Ice Fishing Safety. "Ice Fishing has already started on most lakes even out here on Lake Superior, and it's definitely more finicky. The conditions can change quickly." Captain Haney tells us that as they give recommendations for ice thickness, "There isn't any ice that's 100% safe."
The Duluth Fire department follows the Minnesota Department of Natural Resources guidelines for minimum ice thickness.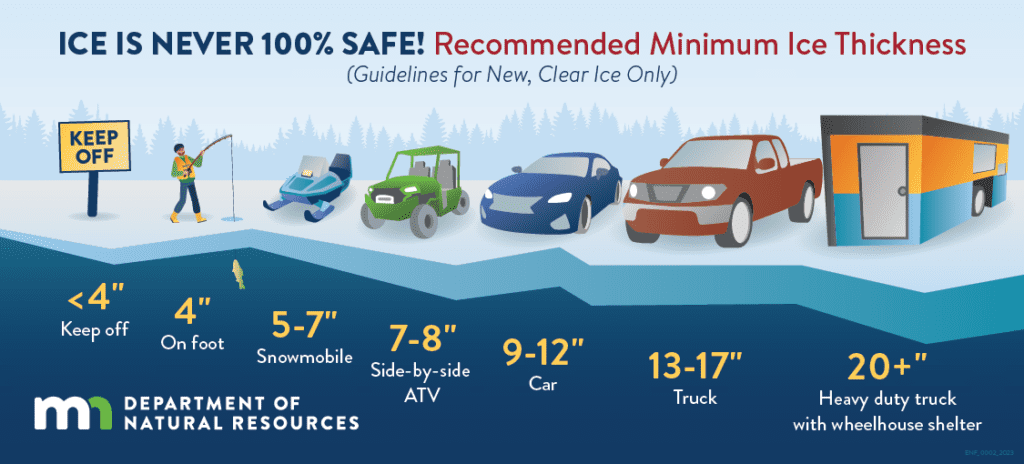 "One of the things we always recommend is a set of ice picks. It could be as simple as two giants nails if you don't have ice picks. Just something be able to get yourself out of the water if you go down in it," Captain Haney tells us the other item he recommends is just some rope, "Just in case the other person does go in, and you can help them out."
"Anytime we're out out on the water or the ice. We want people to wear PFDs. It would be great if they had some type of ice suit or dry suit," he says.
If you're out on Lake Superior, watch out for the wind, "That's when it's time to stop the ice fishing. It's a magnificent playground that we have in our backyard. When the wind switches, it can separate that ice, and it can still be floating. It takes everybody away from them and gets rid of the path came out on."