Easy, affordable Thanksgiving tablescape from The Altered Abode
Aubrey DeBettignies from The Altered Abode, a virtual interior design business, shared an easy Thanksgiving tablescape.
"I tried to keep things really simple and affordable," she said. "So I have a lot of kind of transformed Dollar Store items and just like craft store items, kind of pulling in this winter theme to mix in with the fall as well. Just really neutral, inexpensive, affordable, easy to put together tablescape."
She starts with a table runner. For her Thanksgiving table, she used a sheet of brown craft paper.
"And then I really start with the biggest items is kind of my plan as far as laying it out goes," DeBettignies said.
In this case, the largest items were Dollar Store pumpkins that she painted white. She scattered them across the runner, then added a few pinecones for some organic feel. Next, she brought in glass candle holders, another Dollar Store find.
"I just liked the color to play around with the copper and just have a little pop of that fall color," she said.
She finished off the tablescape with craft store leaves that she had snipped from branches and then spraypainted white.
"All of these items on the tablescape itself were … under $30," she said.
Plates, glasses with a copper accent, and knotted napkins finish the design.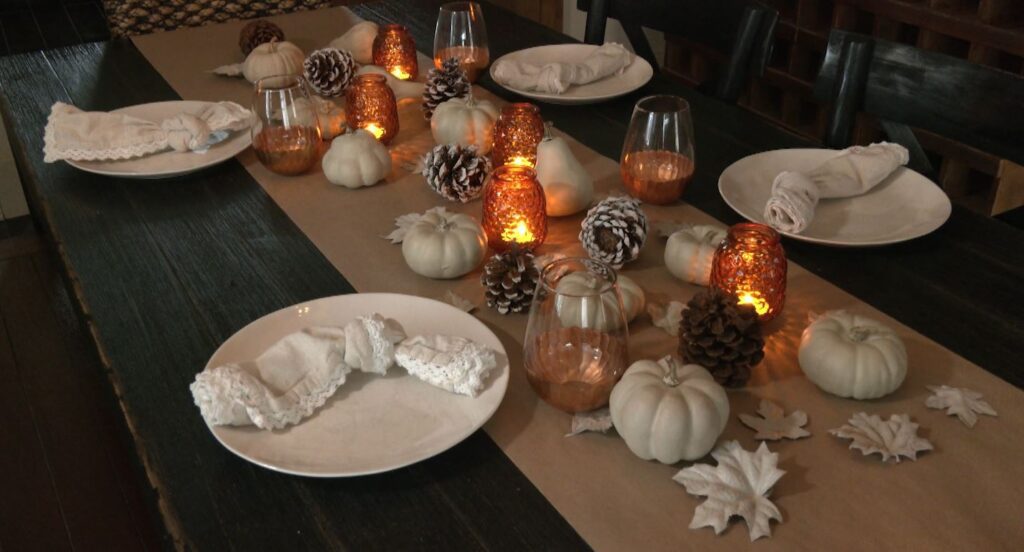 You will be able to find more details on her Thanksgiving tablescape on her blog.