Earth Month: Ren Market trying to make sustainability affordable
For three years now, Ren Market has been supplying Northlanders with zero waste and refill options for personal care, home goods, and more.
"Essentially, we carry a bunch of products that you would use every day in your house, but we carry them in bulk. So people can bring in their own bottles or containers and refill laundry soap, dish soap, we've got hair care products, we've got personal hygiene products," Ren Market Owner Kendra Dean said. "And all of it is going to be plastic-free, it's going to be nontoxic, eco-friendly."
Just this week, the store started a new program to make sustainability even more affordable. People with WIC, SNAP, or EBT cards can bring them in and get a 35% discount off their entire purchase.
"We want to make sure that making these switches is affordable, accessible, and easy to everybody because, you know, it's important," Dean said.
She and the sales associates in the store are passionate about helping people make sustainable swaps in their everyday lives.
Dean said one of the best-selling personal care items is shampoo bars.
"One of these will replace anywhere from — usually, we say about two bottles of shampoo," she said.
A bar costs around $18.
"You're looking at replacing two $9 bottles of shampoo, which is pretty reasonable," Dean said.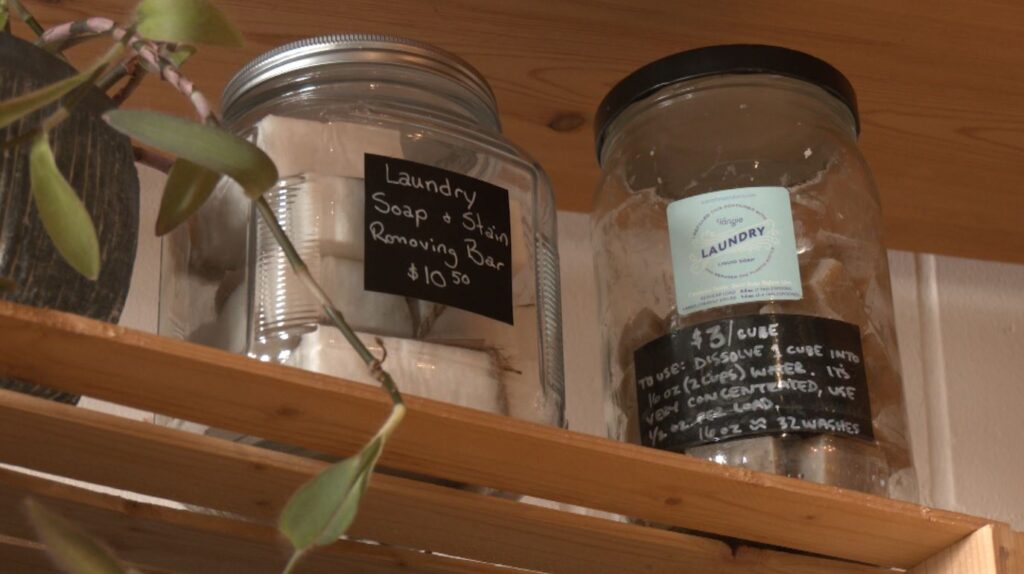 The same goes for laundry soap. Dean did some math and worked out that if someone buys a jug of Tide laundry detergent, it costs about $.18 per load. Ren Market's cheapest option is a laundry bar, which you mix with water then add a tablespoon to the machine. She said that method costs about $.09 per load.
She also encourages people to pay close attention to waste in the kitchen. She recommends using things like coffee socks that replace paper filters or Stasher bags rather than disposable plastic versions.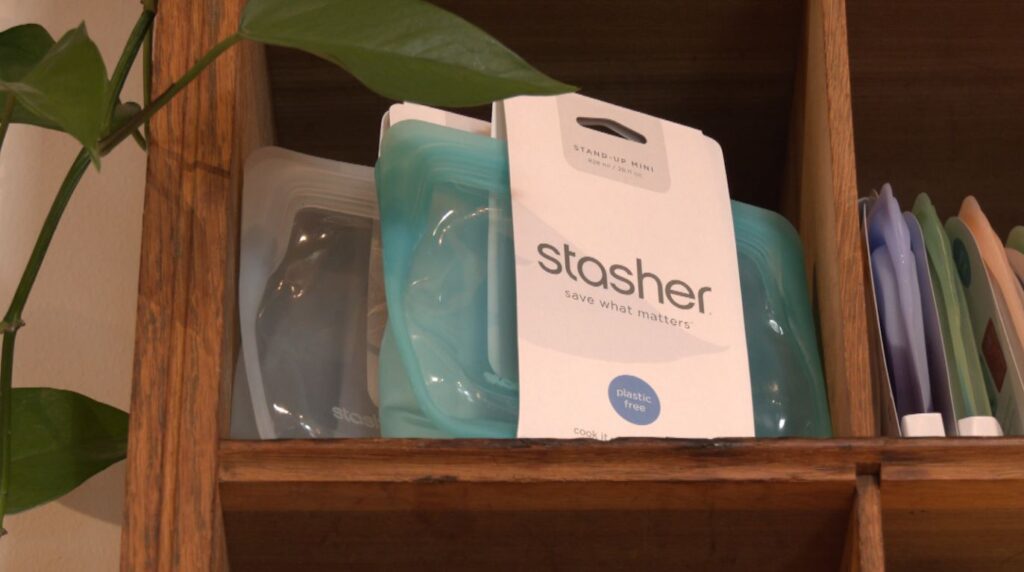 And Dean is also an advocate for sustainability that doesn't cost money. She adds a few "R's" to the traditional Reduce, Reuse, Recycle. First, she says to Rethink.
"Walk through your house and rethink what it is that you are doing that could maybe be a little bit more sustainable," Dean said.
Next, she adds Refuse.
"Simply stopping yourself before you make those impulse purchases is a huge way to save money and be more sustainable," she said.
And finally, Repair.
"So those items that you have that are broken, like your Kitchenaids or your CD player or your LCD TV, take them in and get them repaired," Dean suggested.
She always encourages people that making a small change is better than doing nothing at all.
"At the end of the day, it's better to do the few things that you can do and that work for you and not beat yourself up for not doing everything."
Look for more Earth Month stories on The Lift throughout April.