Suspicious device on UMD property deemed not a threat
On Tuesday UMD Police Chief Sean Huls says that they believe the device was left intentionally.
"We believe the device was left intentionally to cause alarm and elicit a response," said in a Safe-U alert, "The bomb squad investigated and determined the device was non-threatening."
According to the administration on the University of Minnesota Duluth campus, the St. Paul Police bomb squad investigated the suspicious device on Monday evening, determining that the device was not a threat to the public. The school gave the "All Clear" via Facebook at 7:50 p.m.
The evacuation order was lifted.
The administration sent out an updated Safe-U Alert to students and faculty on their Facebook page giving the All Clear. They stated the suspicious device had been removed from the scene.
ORIGINAL STORY: UMD Police are investigating a suspicious object near the UMD Research Lab on 2205 E 5th Street.
According to a UMD representative, the St. Paul Police bomb squad is on its way to Duluth.
The university sent out a SafeU Safety Notification around 4:23 p.m. The general area is being evacuated and they advise students and the public to avoid that area.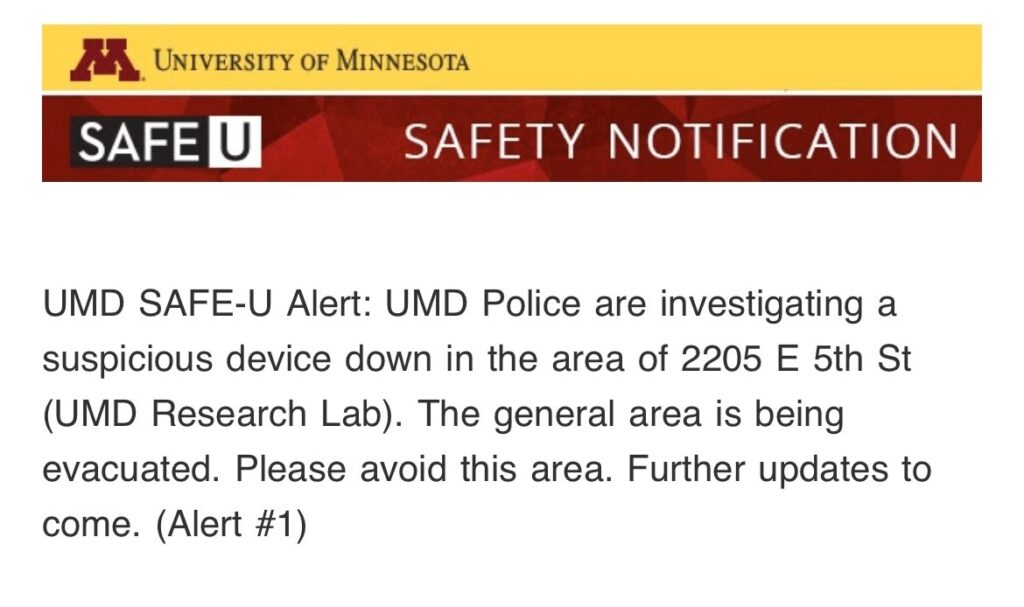 WDIO will continue to follow this story and provide updates as this story progresses.