Montoya sets new Half record, Reichow wins the Men's division
We have the winners in the 2023 Garry Bjorklund Half Marathon. Congratulations to Joel Reichow and Maggie Montoya. Maggie Montoya set a new course record of 1:09:26, besting Kara Goucher's record of 1:09:46 set in 2012. This is Montoya's debut race in Duluth.
Montoya met up with WDIO's Dillon Morello after crossing the line, and said she had no idea that she was running at a record pace.
"I was just trying to keep my teammate Carlos in site," Montoya said. "I have had a bad string of Half's and I'm happy to have something good go here."
She said she has wanted to come to Duluth for years and the course was beautiful.
"Beautiful venue along the water, it was so peaceful driving out to the start line, seeing the water," she said.
Reichow crossed the finish line with an unofficial time of 1:02:30. He is 29 years old.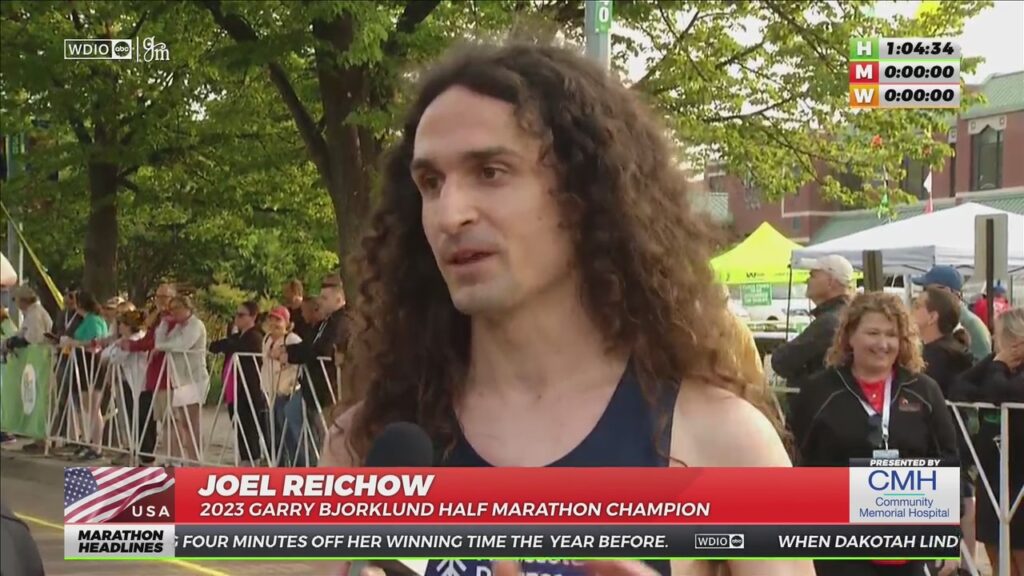 "I tried to get it out a little bit quick, and started with a little bit of a gap and then people kinda caught up to me," Reichow said. He said he turned the pace down a bit in the last three miles as the pack spaced out some.
This is Reichow's first win. The Minnesota native says this was a goal of his. "It was amazing just hearing everyone cheer my name," he says. "I'm super excited about it."
Named after the first Grandma's Marathon champion, the Garry Bjorklund Half Marathon has now become one of the largest half marathons in the country, welcoming approximately 10,000 participants each year to the shores of Lake Superior.
The first Garry Bjorklund Half Marathon took place in 1991.
---
Grandma's Marathon Photo Gallery
WDIO's Brandon Weatherz speed-walks through Lemon Drop Hill.

Congratulations! Signage to pump up every runner.

You've heard it mentioned, this is the view from the notorious Lemon Drop Hill.

Grandma at the finish of Grandma's Marathon.

Getting started in Two Harbors.

Going Bananas on the sidelines.

A smile as they near the finish.

Bagpipes entertain the participants.

Lead runners in the Men's Division.

Wheeler

Excited for the finish.

Two crossing the finish line.

All smiles at the finish.

Lead wheelchair races at Lemon Drop Hill.

Broadcast car set up.

Health and weather conditions where at a low risk on Saturday.

Volunteers put the finishing touches on the start – very early in the morning.

Necessities. Need we say more?

Our hosts, Alicia Tipcke and Kara Goucher near the finish in Canal Park.

Happy at the finish of the Garry Bjorklund Half Marathon.

Crossing together, The finish of the Garry Bjorklund Half Marathon.