Police and firefighters honor two fallen Wisconsin police officers
There was a huge show of support in Ramsey on Monday morning for two police officers who were shot and killed during a traffic stop on Saturday. The bodies of the two officers were brought to the Midwest Medical Examiner's office on Monday.
Hubbard Broadcasting's KSTP was there as dozens of officers and firefighters, as well as community members, lined up outside the building to offer their condolences.
RELATED STORY: Two Wisconsin police officers killed during a traffic stop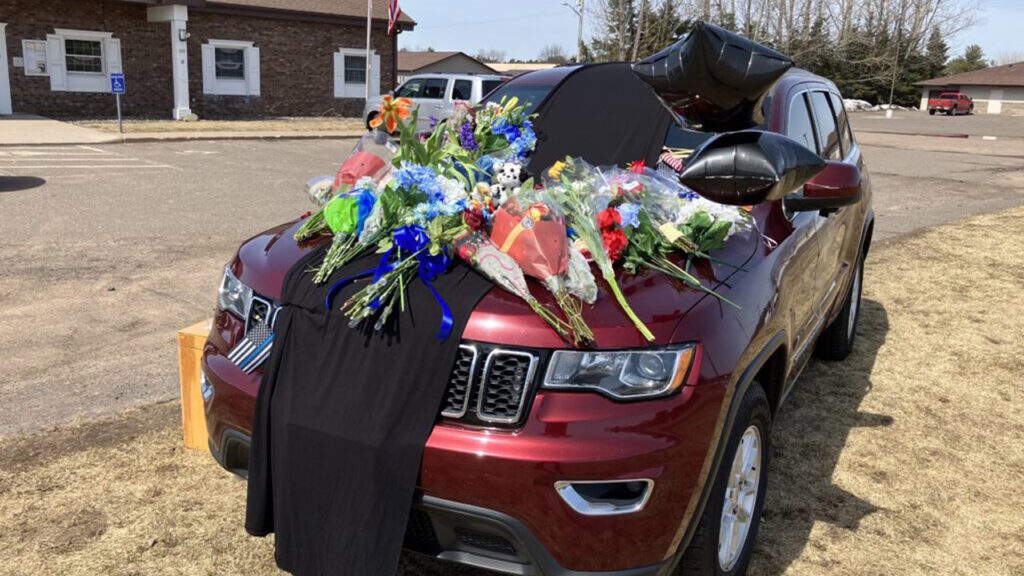 According to KSTP, family and friends have identified one of the officers as Emily Breidenbach, who worked for the Chetek Police Department. Breidenbach's brother says their father was the Chetek police chief when they were growing up and called his sister a great role model and mother.
Wisconsin Gov. Tony Evers identified the other officer as Hunter Scheel in a tweet Monday. Evers says he will sign Executive Orders lowering the U.S. and Wisconsin flags to half-staff across the state in honor of Officer Breidenbach and Officer Scheel once funeral arrangements have been announced.
Breidenbach and Hunter Scheel, an officer from the Village of Cameron, died after gunfire was exchanged during a traffic stop shortly after 3:30 p.m. Saturday.
The Barron County Sheriff's Office shared a news release from Wisconsin Attorney General Josh Kaul that also verified the names of the officers involved. According to the release, "At approximately 3:38 p.m., Chetek Police Officer Emily Breidenbach, age 32, with approximately 5 years of law enforcement service, along with Cameron Police Officer Hunter Scheel, age 23, with approximately one year of law enforcement service, conducted a traffic stop in the Village of Cameron. The officers were conducting the traffic stop based on a warrant and to check welfare of the driver, Glenn Douglas Perry, age 50, following notification of concerning behaviour. During the traffic stop, gunfire was exchanged."
Kathy and I join the people of Wisconsin in offering our sincerest condolences to the loved ones, friends, and colleagues of Emily Breidenbach of the Chetek Police Department and Hunter Scheel of the Cameron Police Department, who were killed in the line of duty over the weekend. https://t.co/2HC7IjnV7w

— Governor Tony Evers (@GovEvers) April 10, 2023
RELATED STORY: Governor Evers comments after cops killed in traffic stop shooting
The incident remains under investigation. At this point, it is unclear when Scheel arrived but authorities say gunfire was exchanged and both officers died at the scene. The suspect in the shooting died at an area hospital.
The Wisconsin DOJ Division of Criminal Investigation is leading the investigation and is being assisted by Barron County Sheriff's Office, Rusk County Sheriff's Office, Wisconsin Department of Natural Resources, Wisconsin State Patrol, Wisconsin State Crime Lab and a DCI Crime Response Specialist.
After the investigation ends, investigative reports will be turned over to the Barron County District Attorney for review.