Flooding and high rainfall totals overnight in and around Duluth
What started out as a chance for light rain turned into a deluge in and around Duluth on Monday evening. Rain began in the afternoon, with some passing showers and thunderstorms, but it wasn't until after 9pm when heavy rain moved through.
The National Weather Service (NWS) issued a Flash Flood at around 10:00 PM. According to the NWS, photos and videos shared on social media showed a large stream of water 3 to 10 inches deep rapidly flowing downhill, flooding buildings around 7th Avenue and 3rd Street in Duluth. The Duluth Fire Department were called in to help evacuate residents and pets from the lower levels.
Around the same time, Minnesota Department of Transportation traffic cams displayed standing and flowing water in the tunnels on I-35 in Duluth. Duluth Police closed the interstate near the tunnels and directed traffic to avoid the area. According to the NWS, the southbound lane was fully covered with at least 4 to 6 inches of water.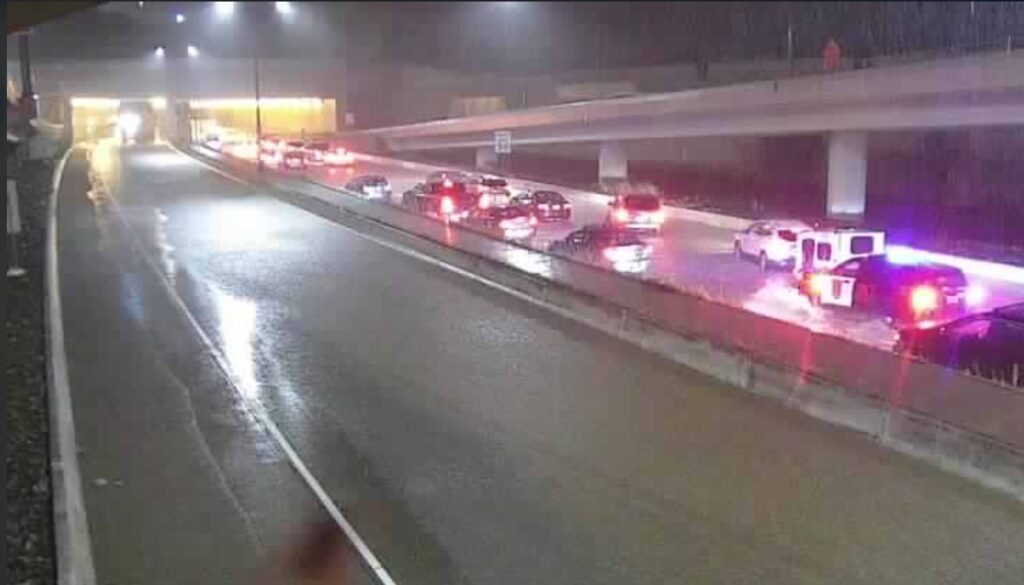 The Kenwood Avenue neighborhood got hit with a lot of rainfall. Reports of flash flooding came in just before 10:00 PM, with 2 to 5 inches of water flowing out of side streets onto Kenwood Avenue.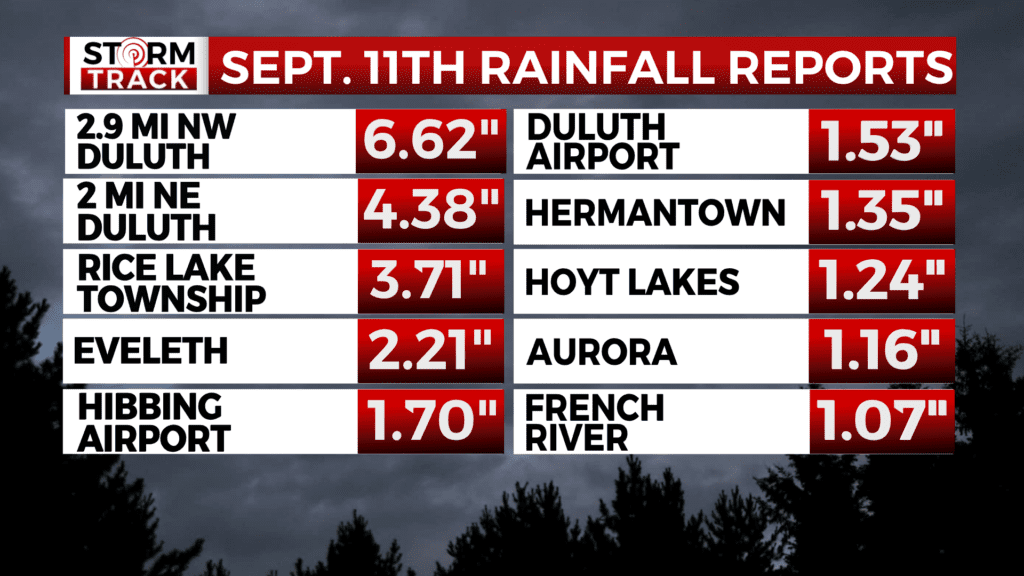 ---
Here are some of the rainfall amounts sent into the NWS as of 12:30 PM Tuesday:
10:00 AM – 3 NNW Duluth – 6.62 inches – St. Louis County
11:00 AM – 2 NNE Duluth – 4.38 inches – St. Louis County
11:00 AM – 1 NNW Duluth – 4.06 inches – St. Louis County
11:00 AM – 2 NNE Duluth – 3.80 inches – St. Louis County
11:00 AM – 2 W Rice Lake – 3.75 inches – St. Louis County
8:00 AM – 3 SW Lester Park – 2.57 inches – St. Louis County
10:10 AM – 3 ESE Zim – 2.21 inches – St. Louis County
6:30 AM – 2 WNW Duluth – 1.91 inches – St. Louis County
7:00 AM – 2 SW Lester Park – 1.83 inches – St. Louis County
8:02 AM – Silver Bay – 1.75 inches – Lake County
12:30 PM – Canyon – 1.50 inches – St. Louis County
9:47 AM – 4 NE Hermantown (Duluth Airport) – 1.46 inches – St. Louis County
7:00 AM – 12 WNW Isabella – 1.32 inches – Lake County
7:42 AM – 4 SSW Shell Lake – 1.25 inches – Washburn County
6:00 AM – 4 ENE Zemple – 1.13 inches – Itasca County
Video from Chester Creek on Tuesday afternoon (Dustin Parsons)