UPDATE: Extreme fire danger across much of Wisconsin
It may be hard to believe based on the amount of snow still left on the ground in Northern Wisconsin and Minnesota, however the Wisconsin Department of Natural Resources (DNR) is asking residents to be careful if burning yard waste. As of Wednesday, the DNR has increased the fire danger for portions of central and southern Wisconsin to extreme. A Red Flag Warning has been issued for Wednesday until 8 p.m.
Due to the extreme fire danger, Governor Tony Evers signed Executive Order #191 declaring a State of Emergency to assist in fire suppression.
The DNR will continue to prohibit burning with all DNR-issued burning permits in the Red Flag Warning area, and ask all residents to be especially careful with any activity that could lead to a wildland fire.
Counties in the Red Flag Warning include: Adams, Buffalo, Calumet, Columbia, Crawford, Dane, Dodge, Fond du Lac, Grant, Green Lake, Green, Iowa, Jackson, Jefferson, Juneau, Kenosha, La Crosse, Lafayette, Marquette, Milwaukee, Monroe, Outagamie, Ozaukee, Portage, Racine, Richland, Rock, Sauk, Sheboygan, Trempealeau, Vernon, Walworth, Washington, Waukesha, Waupaca, Waushara, Winnebago and Wood counties, including the snow-free areas of Clark, Marathon and Shawano counties.
The DNR says burning permit restrictions and fire danger vary greatly from county to county. Significant snow pack still lingers in the northern third of the state. The fire danger for Northwestern Wisconsin is low as of Tuesday afternoon, April 11.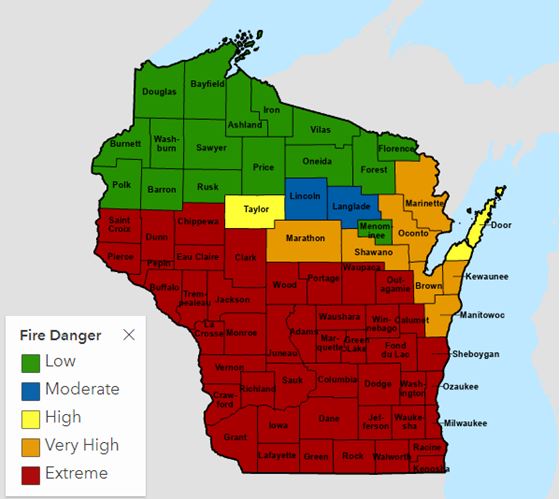 The DNR responded to nearly 60 wildfires in the last week. Fire control officials will be on high alert across the entire state, pre-positioning equipment for rapid response, including access to the Wisconsin Army National Guard Blackhawk helicopters with bucket capability.
Officials ask Wisconsinites in the Very High and Extreme classification to avoid all outdoor burning including limiting the use of campfires.
Avoid outdoor burning until conditions improve. Burn permits for debris burning are currently suspended in numerous counties.
Operate equipment (chainsaws, off-road vehicles, lawnmowers, etc.) early in the morning or late in the day to avoid sparks at peak burn hours.
Secure dragging trailer chains.
Report fires early, dial 911.
You can keep up-to-date on the fire danger in Wisconsin by visiting the DNR website.