Fire danger a concern over the Memorial Day weekend
As we head out to start our long weekend full of barbeque's, campfires and fun, it is important to keep fire dangers in mind. The Northland has seen a relatively dry May. The National Weather Services says portions of Northern Minnesota and Northwest Wisconsin are at near critical fire weather conditions for the weekend.
Low humidity with southerly winds of 5 to 15 mph, gusting at time of 15 to 20 mph could help spread fires.
According to the Minnesota Department of Natural Resources (DNR), the state is at a high to very high fire risk. In fact, Lake of the Woods and a portion of northern Koochiching counties are under Extreme Fire Danager. DNR lists extreme as the fire situation is explosive and can result in extensive property damage. Lake, Cook and Northern St. Louis Counties have a ban on open burning, but campfires are allowed.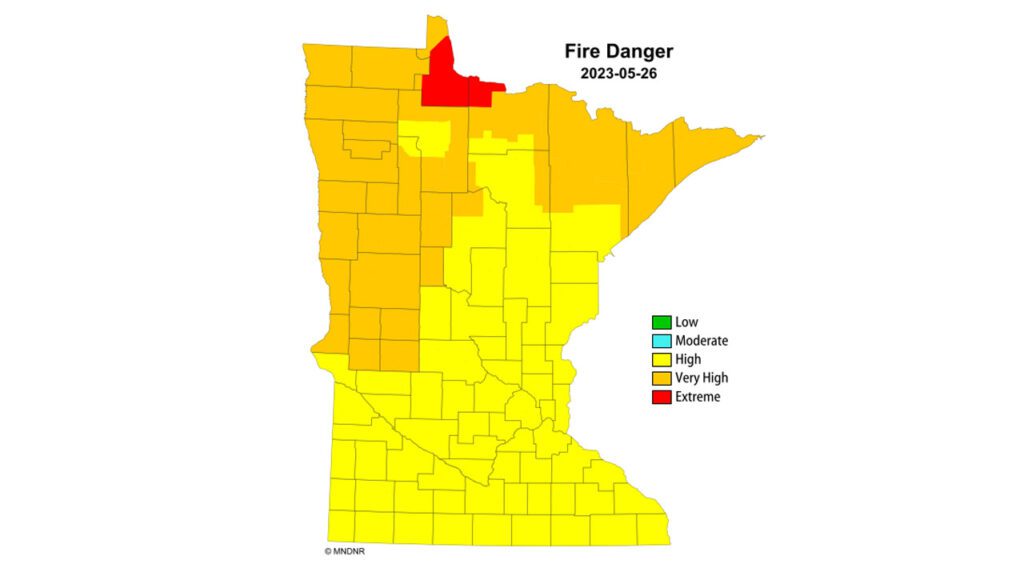 Duluth's last measurable precipitation was on May 18, when we received just over a quarter inch of rain. As of May 26, Duluth has received .80″ of rainfall, which is 1.75 inches below normal. Normal precipatation in May is 2.55 inches. The good news is that we had a wet enough winter and spring which has kept us out of the extreme drought scenario. The next five days do appear to be dry, so conditions could change.
Wisconsin Department of Natural Resources shows Northwest Wisconsin, including Douglas, Bayfield, Burnett, Washburn and Sawyer counties are under high fire danager. The National Weather Service warns far northern Wisconsin counties, including Vilas County are at an elevated fire weather condition through Saturday. The National Weather Service says outdoor burning should not be attempted.
The Storm Track Weather Department says the best chance for rain is on Tuesday of next week, meaning the fire danager could increase.
Keep an eye on the fire danger in Minnesota and Wisconsin, and report any signs of a wildfire to authorities.