Fake shooter threat force Cloquet Middle, High School lockdowns
Wednesday morning, staff at Cloquet Middle School and Cloquet High School put both schools in a lockdown, after the threat of an active shooter. That threat was later deemed a hoax by Cloquet Police.
Authorities say the Carlton County Sheriff's Dispatch Center received a phone call from an unknown, unidentified person stating there was an armed suspect with an AK-47. The caller said the suspect was shooting students at the High School, in room 108 of the English department.
Cloquet Police squads and neighboring law enforcement agencies responded to CHS and CMS. Both schools were placed on lockdown.
Upon arrival, officers found nothing out of the ordinary, and identified that there was no room 108. Officers also determined that the English department and all other classrooms were clear. Authorities also say no one inside the school reported any threatening behavior.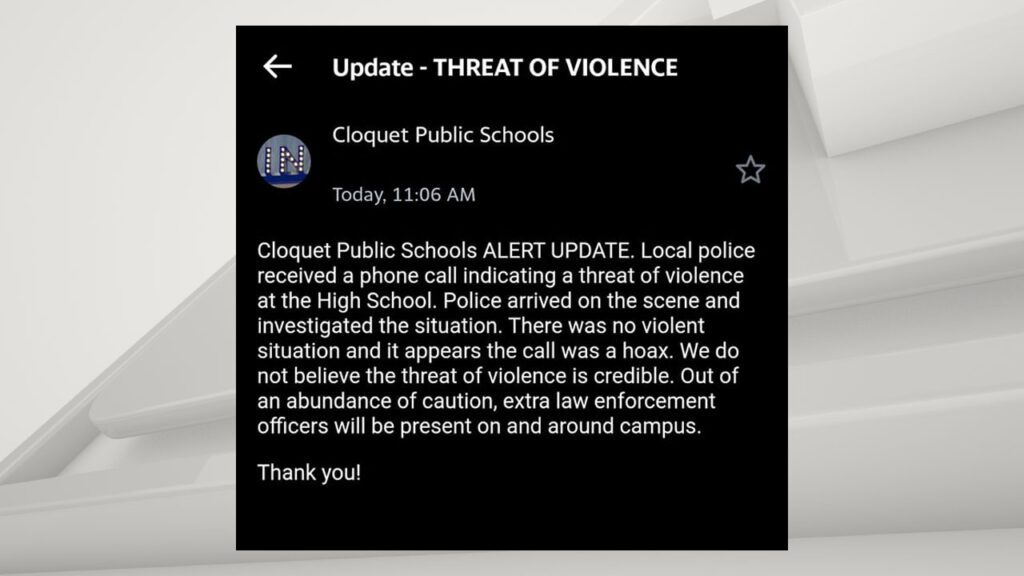 In an email to parents just after 11:00am, Cloquet Public Schools shared an ALERT UPDATE, stating: "Local police received a phone call indicating a threat of violence at the High School. Police arrived on scene and investigated the situation. There was no violent situation and it appears the call was a hoax. We do not believe the threat of violence is credible."
After this initial email, CHS and CMS staff sent a follow-up email with an update on the situation, saying the call was believed to be a swatting attempt.
Authorities define swatting as a hoax call made to emergency services, typically reporting an immediate threat to human life. By definition, swatting may be motivated by revenge, used as a form of fear or harassment, or a prank. Authorities do view swatting as a serious crime with severe consequences.
After clearing Cloquet Middle and High Schools, officers remained on scene, staying at or around both schools for the rest of the school day.  
The Minnesota Bureau of Criminal Apprehension tweeted that it is aware of multiple incidents similar to the one in Cloquet. In a Tweet saying "Local law enforcement are resonding. No incidents have turned out to be real."
We are aware of multiple swatting incidents involving active shooter events or mass casualties at schools across Minnesota. Local law enforcement are responding. No incidents have turned out to be real.

— Minnesota BCA (@MnDPS_BCA) September 21, 2022
A high school in Rochester, Minnesota was one of the schools to receive a call just after 10:00 a.m. on Wednesday from an internet-based cell phone number. According to Rochester Police, the call stated that there was shots fired inside Lourdes High School with students injured. This threat also proved to be false.
Cloquet Police say after the incident, the Fusion Center was notified and they were in contact with the FBI. CPD says they FBI informed them that the call originated in a similar bomb threat incident in Africa.
In a statement, Cloquet Police say: "We will do our best to continue to share and communicate as much information as quickly as possible, understanding that our priority and foremost goal is to ensure the safety of our citizens and community. As time permits, we will update and add additional details as soon as possible. We appreciate your understanding and patience in these scenarios."