17 charged in major drug trafficking case
Duluth police announced Tuesday that the Lake Superior Violent Offender Task Force has been dismantling a major drug trafficking organization.
17 alleged members have been arrested and charged in the past couple of months. Police believe the ringleader was Nicholas VanHolbeck.
Lt. Chad Nagorski, commander of the task force, shared that many of the defendants are related, which made it difficult to infiltrate the ranks.
They allegedly sold fentanyl/heroin mix, methamphetamine, and methamphetamine/fentanyl mix throughout the region.
According to authorities, the illicit drugs were then distributed by DTO members who sold drugs throughout Duluth, Superior, Cloquet, Fond Du Lac Reservation, and other areas in St. Louis, Carlton, and Douglas Counties in Minnesota and Wisconsin.
During the course of the investigation, police said agencies executed over 50 search warrants.
During those, they confiscated 8509 grams of meth-fentanyl mix worth $850,000 on the street, 204 grams of fentanyl worth $37,000+, and 1759 grams of methamphetamine, worth $131,000 on the street.
That's over 20 pounds worth.
Plus they seized 9 firearms, a homemade explosive, 10 vehicles, and $74,000+ in cash.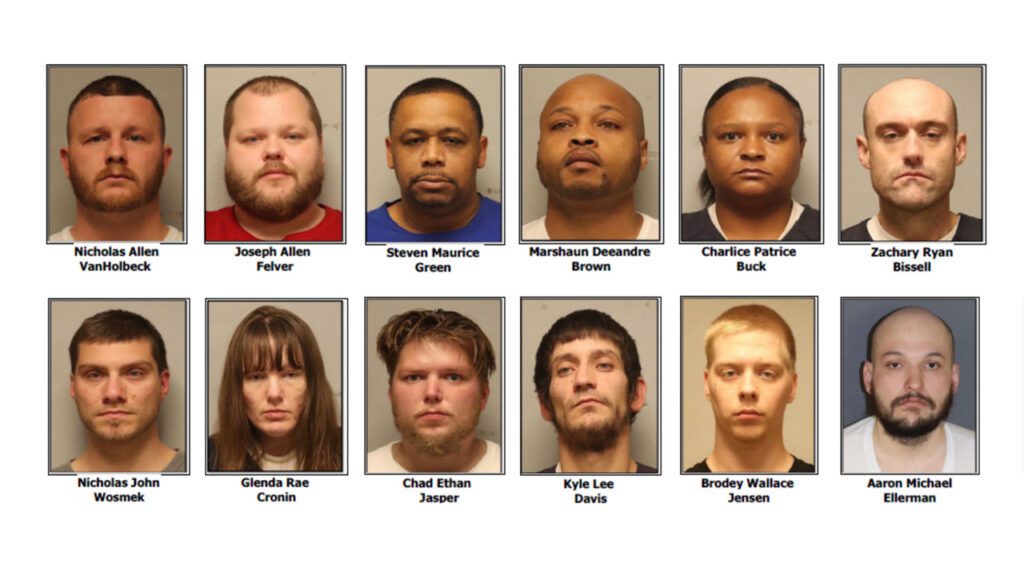 Arrests were carried out last week in the City of Superior and the City of Duluth as part of the multi-jurisdictional operation. So far, 17 members of the DTO have been arrested and five of those individuals were released.
The following individuals have been arrested; 30-year-old Duluth resident, Nicholas VanHolbeck, 36-year-old Maple Grove resident Marshaun Brown, 45-year-old Duluth resident Steven Green, 34-year-old Duluth resident Charlice Buck, 31-year-old Duluth resident, Joseph Felver, 30-year-old Duluth resident Nicholas Wosmek, 37-year-old Duluth resident Glenda Cronin, 40- year-old Duluth resident Zachary Bissell, 32-year-old Duluth resident Chad Jasper, 27-year-old Minneapolis resident Aaron Ellerman, 28-year-old Duluth resident Kyle Davis, and 25-year-old Duluth resident Brodey Jensen.
"The outstanding work performed by members of the Lake Superior Violent Offender Task Force and other law enforcement agencies during this extensive operation is an essential part in keeping the Northland clean from opioids and free of violent offenders," Deputy Chief Nick Lukovsky said in a press release. "I'm extremely proud of all those involved for their dedication in continuing to provide a safe Northland for all."
Chief Mike Ceynowa said dismantling any drug trafficking organization limits the source of supply for fatal overdoses.
Agencies are still seeking some suspects.
Assisting in the operation were the Duluth Police Department, the Lake Superior Violent Offender Task Force, the St. Louis County Attorney's Office, the St. Louis County Sheriff's Office, Superior Police Department, the Bureau of Alcohol, Tobacco, Firearms and Explosives, Department of Homeland Security Investigations, the Drug Enforcement Administration, the United States Postal Inspector's Office, and other agencies/organizations involved in this multi-jurisdictional investigation.