Biden talking job growth, clean energy during Minnesota visit
President Joe Biden visited Minnesota Monday afternoon, with a focus on job growth and clean energy.
After arriving at the Minneapolis-St. Paul International Airport around or before 12:40pm CT, the President discussed how is economic agenda has led to what his administration calls the strongest job growth in history, over $435 billion in major private sector investments nationwide, stronger supply chains here at home, and a Made in America manufacturing and clean energy boom.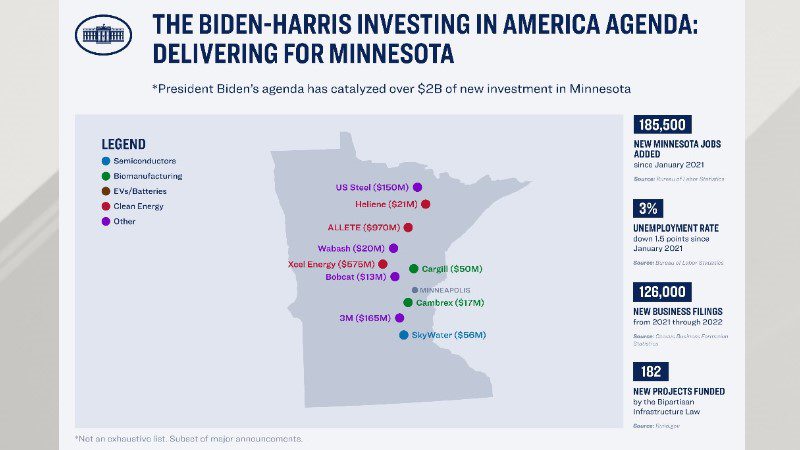 In terms of private sector investments, the Biden Administration says Minnesota's economy is now a more-attractive place for companies around the world to invest and expand in. One example, Heliene has committed to a major expansion of its utility-scale, commercial, and residential solar panel construction in Mountain Iron.
The City of Duluth is on the President's radar, with $25 million in funding to reconstruction a two-mile stretch of West Superior Street in the Lincoln Park neighborhood, to include an integrated multimodal corridor, electric vehicle charging stations, green infrastructure, and above-ground streetscapes. This funding is part of a greater $2.7 billion in federal funding that has already been announced for 182 infrastructure projects across Minnesota. That also includes $2.3 billion to fund transportation projects like roads, bridges, and roadway safety, and over $148 million for better access to clean water.
The President's Investing in America agenda is pushing to deliver a clean, secure, and healthy future for Minnesota families, and that includes extreme weather events. In the last decade, Minnesota has experienced 18 major extreme weather events that have cost the state up to $13 billion in damages. Duluth knows about these types of weather events all-too well. Part of the President's agenda provided investments for more resilient homes, businesses, and communities.
President Biden toured Cummins Power Generation Facility in Fridley before delivering his speech. During the speech, Biden touched on Cummins' newest project of building hydrogen electrolyzers. He said, "When Cummins first manufactured hydrogen electrolyzers, they had to make them overseas. These are the machines that make clean hydrogen a renewable energy used to power our economy from clean cars, to trucks, to steel, to cement manufacturing. But now, thanks to the Inflation Reduction Act, with the tax credits for renewable energy, Cummins is going to manufacture these electrolyzers here in America for the first time." President Biden went on to discuss how investments like these affect the economy, saying, "Federal investment attracts private investment. It creates jobs and industries. And it demonstrates we're all in this together. And that's what today is all about."
He is expected to return to Washington D.C. Monday afternoon.