Amid contract negotiations, nurses pressure hospitals to resolve staffing issues
Twin Ports nurses are trying to put pressure on hospital leaders to solve the staffing crisis.
At a Tuesday press conference, union nurses say staffing levels are leading to dangerous conditions for patients and making nurses worry about losing their licenses.
They say it's a sticking point in current contract negotiations.
"We had a nursing body of over 600 nurses back in 2019. Currently, we have about 512," Lorie Olesiak said.
She has been a nurse at St. Luke's since 2004 and has worked in the ICU there since 2010.
"Currently at this point in time, our staffing is the worst that I have ever seen," Olesiak said.
Larissa Hubbertt works with her in the ICU. She's been in that unit for the last six of her 17 years at St. Luke's.
"In the ICU, we lost about a third of our nurses last year alone," Hubbertt said.
She and Olesiak are two of the Minnesota Nurses Association nurses who voted Tuesday to declare they have "no confidence" in St. Luke's co-CEOs Eric Lohn and Nick Van Deelen.
"They had an opportunity to make things better, but they did not rise to the occasion," Hubbertt said.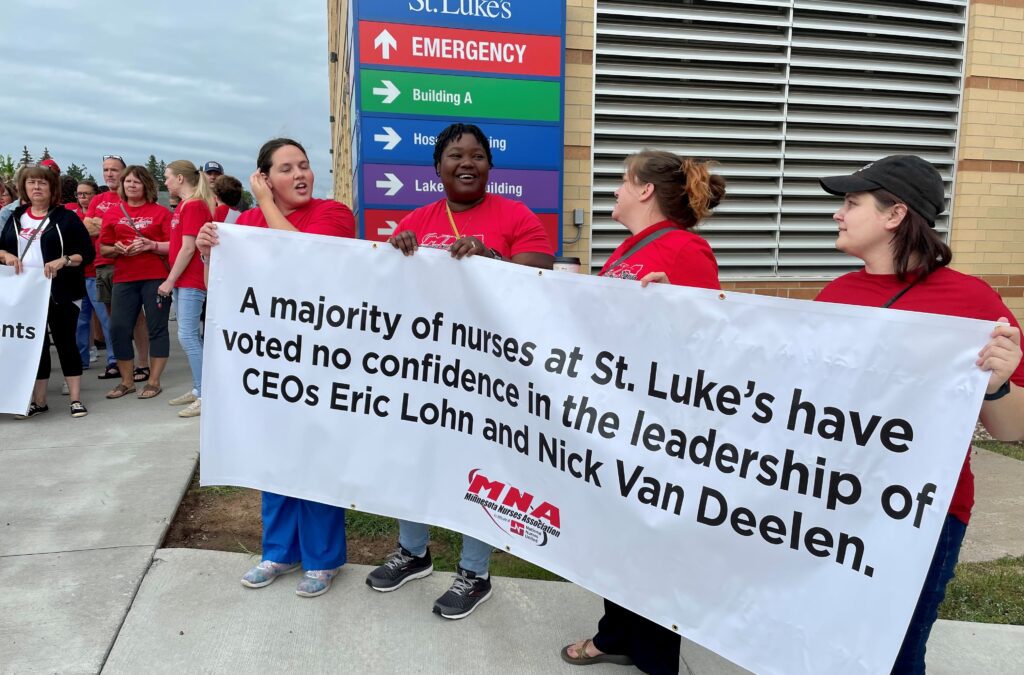 St. Luke's responded to the nurse's claims in the following statement:
"St. Luke's has long served as a champion for our nurses who do important work every day as part of the amazing care team at St. Luke's. We have offered a 10% raise for our nurses over 3 years, which is a fair and meaningful increase, while MNA is still asking for 36.5% over three years.
Raises of this magnitude would severely increase the cost of health care for our patients, decrease the number of community members who can afford health care, and decrease our ability to pay competitive wages to our other valued employees.
While MNA has repeatedly declined the use of a mediator, we will continue to advocate for one, to help us reach a responsible, fair and equitable contract."
St. Luke's set up a website to track negotiations.
Nurses at Essentia Health say it's no different across the street.
"We sit here in the shadow of a giant new hospital, but inside, we see a lack of focus on patient care and bedside staffing," Chris Rubesch, a nurse at Essentia, said.
"While Essentia executives claim that the nurse-to-patient ratio at Essentia is 1:4, we are living the reality of regularly caring for 5-8 patients," Keandra Schumacher, another RN, said.
Essentia nurses are writing a letter to the Benedictine sisters at the St. Scholastica monastery, who helped found St. Mary's Medical Center.
"We are imploring that they join us in advocating for safe patient care and that Essentia put its Benedictine values and put patients before profits," Rubesch said.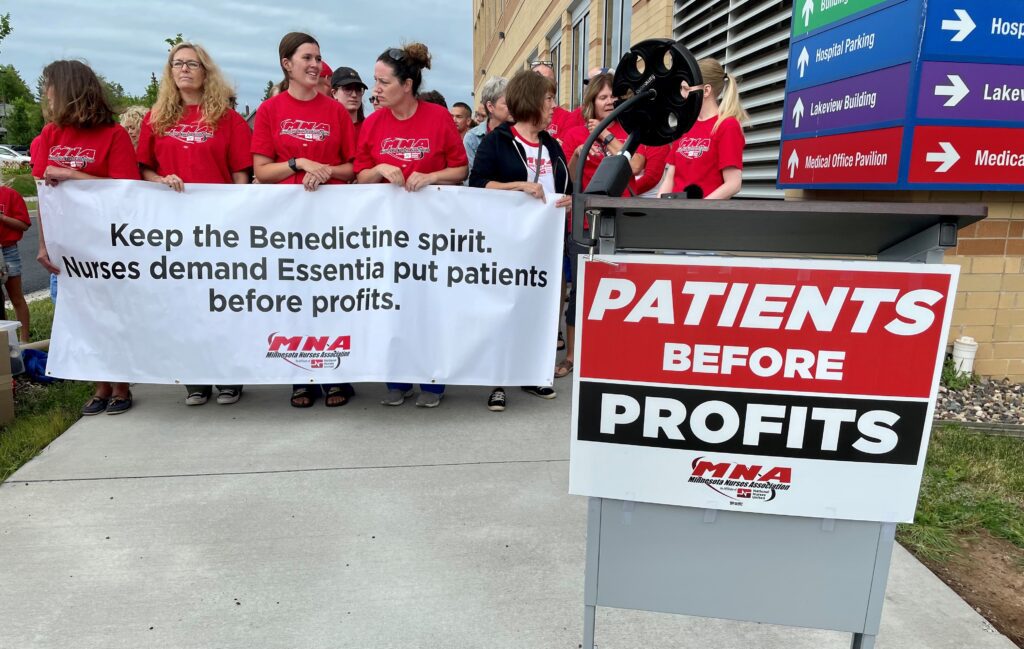 Essentia responded with a statement:
"Essentia Health is proud of our nurses and all of our colleagues who have helped us navigate extraordinary challenges created by the global pandemic. Together, we have worked to ensure that our patients receive the expert and compassionate care they expect and deserve. Essentia provides pay and benefits that help us remain competitive in the communities we're privileged to serve, and we are continuously exploring innovative ways to enhance the recruitment and professional development of our nurses. We have a long history of reaching mutually beneficial agreements with the MNA and we are confident we can do so again."
Twin Ports nurses' contracts expired at the end of June, and negotiations are ongoing. St. Luke's negotiators return to the table Aug. 10.