2023 Salvation Army giving season is here
New this year, the Red Kettle Queen will make appearances during the Red Kettle Season to encourage more donations to the Salvation Army.
Salvation Army's Red Kettle season officially starts on Saturday, November 11th. Festivities began a few days early with the Red Kettle Karnival at Bentleyville on Wednesday.
To kick off festivities, Nathan Bentley lit the big centerpiece Bentleyville tree, outfitted with 150,000 computer-controlled LED lights. Attendees were asked to bring a new toy or a non-perishable food item for the once-a-year opportunity to walk inside the 40-foot base of the tree and experience the lights and music from the inside.
Captains Anthony and Elysia Nordan and Salvation Army staff were present to talk about the Red Kettle Campaign. The food and toy drive benefits Salvation Army centers across our region: Cloquet, Duluth, Grand Rapids, Hibbing, International Falls, Superior, and Virginia.
The Duluth Salvation Army has a new twist for this year's giving season: the Red Kettle Queen.
"I wanted to do something new and exciting this Christmas to bring more people out to donate at our kettles and to raise more awareness of how we at The Duluth Salvation Army help those in need," explained Director of Development and Red Kettle Queen Cyndi Lewis. "Starting on November 30th, I will be out bell-ringing four times this season and will crown one lucky person Red Kettle Royalty each of the 4 days."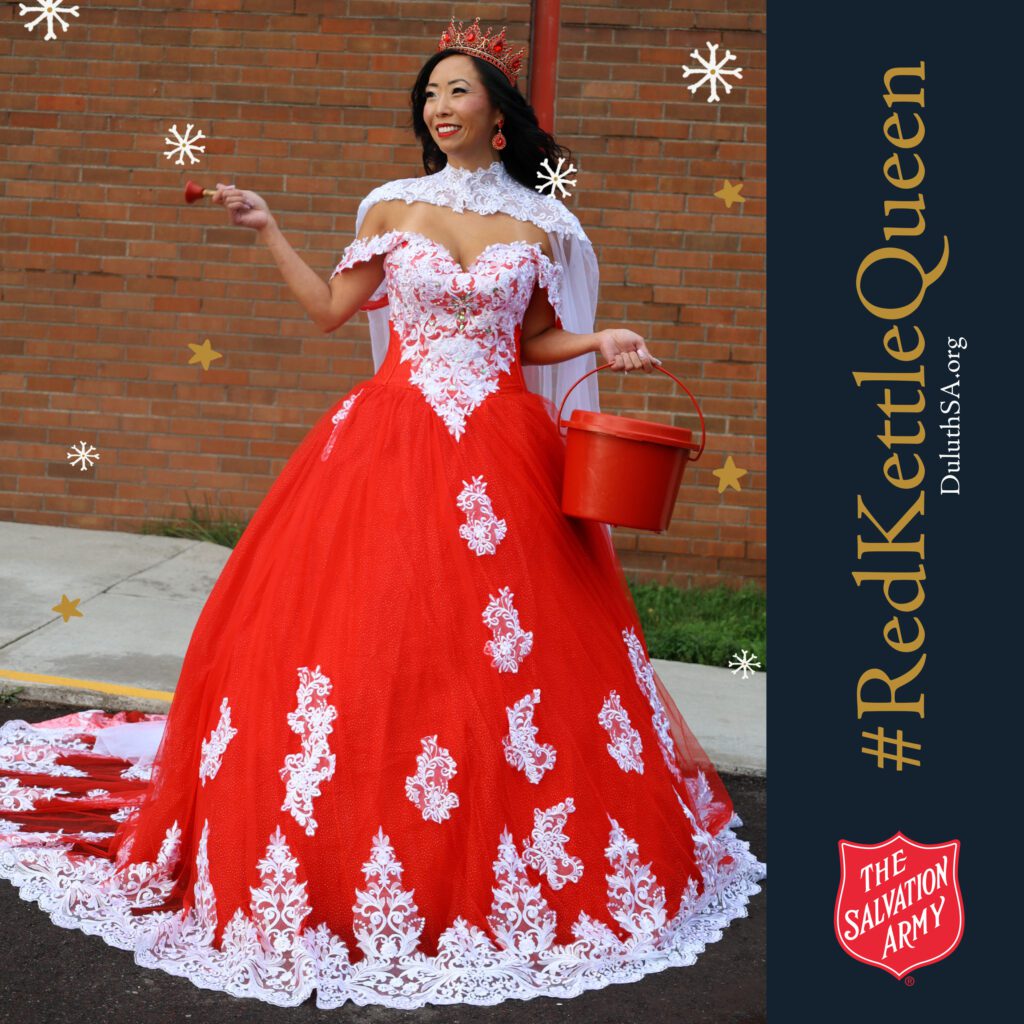 The four Red Kettle Queen appearances are as follows:
Thursday, November 30, 2023, from 11 am to 1 pm at Miller Hill Mall by Applebee's
Tuesday, December 5, 2023, from 11 am to 1 pm at Miller Hill Mall by J.C. Penney
Tuesday, December 12, 2023, from 11 am to 1 pm at the Miller Hill Mall by Noodles and Company
Thursday, December 21, 2023, from 11 am to 1 pm at CUB Foods
All locations are indoors. Crowns will be given to the donor that aligns with the date. For instance, on November 30th, the 30th person to donate will receive a crown. On December 5th, the 5th donor will receive a crown.
"Come in your holiday outfit or favorite princess costume and take pictures! I want to encourage littles to dress up and donate at our kettles," said Lewis. "It's going to be great fun- stop by and see me! Post your photos to Instagram and Facebook, tag Duluth SA, and add #RedKettleQueen. At the end of the kettle season, the post with the most likes will receive the queen's tiara."
Red Kettle season officially starts Saturday, November 11th. Due to a shortage of bell ringers and kettle drivers, this year's ringing hours have been shortened to 11 am-7 pm. With fewer hours to donate, The Duluth Salvation Army is hoping that the community will rise to the challenge of this year's $225,000 kettle goal.
"We are so thankful for donors and organizations like Bentleyville who help support our fundraising efforts," said Lewis. "We have seen this community step up every time we need help, and it's a heartwarming experience to be part of."