Fire destroys three downtown Grand Marais businesses
A fire destroyed three businesses in downtown Grand Marais. It started at the Crooked Spoon Cafe and spread to Picnic & Pine and White Pine North.
According to Cook County Sheriff Pat Eliasen, as of about 5:15 p.m., the fire was under control. Authorities say there were no injuries.
High wind gusts made the fire difficult to fight, the sheriff said.
Cassidy Gecas, who works at the nearby Gunflint Tavern, estimated it only took about 10 minutes for the fire to spread.
"You could hear the windows bust out in the front of the buildings," Gecas said. "And then flames just started shooting out of that, and then it really went."
North Shore Community Radio, WTIP, received a call from the City of Grand Marais asking that people in the city refrain from using water while the fire was being fought.
Pictures and video have also been posted by Grand Marais area residents on social media showing smoke and flames coming out of the cafe.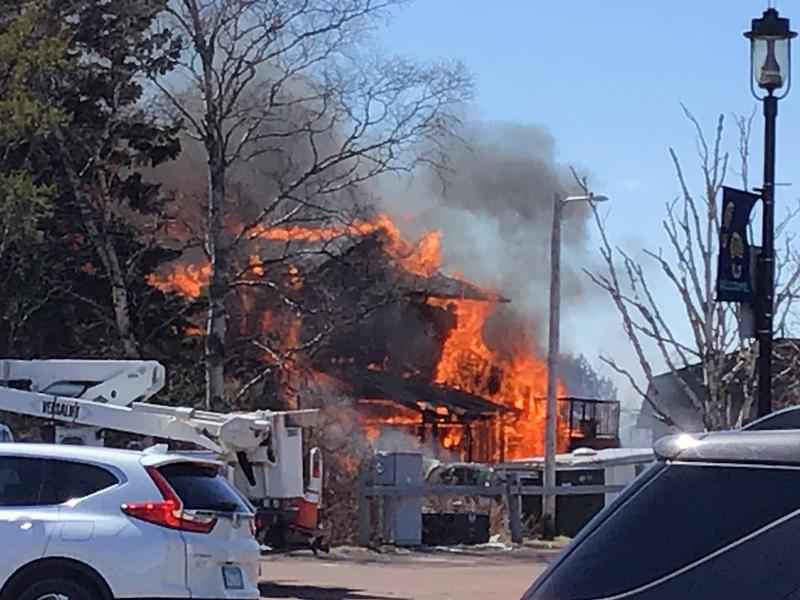 "I commend the swift actions of our fire departments, the City PUC and all emergency personnel involved to contain this major fire under very difficult conditions and circumstances," Sheriff Eliasen said in a press release. "This is a devastating loss for our community and certainly the business owners."
The Crooked Spoon website lists it as being owned by Nathan and Sara Hingos, and is located on West Wisconsin Street, along the Grand Marais waterfront.
Gecas said people in Grand Marais are banding together.
"Everyone feels sorry for them. Like mostly everyone in the town has either friends or family in the restaurant industry," he said. "Once something like this happens, it's just devastating. It hurts the whole town. So three local businesses went down today. And it's going to take a long time to rebuild that."
Volunteer firefighters from Grand Marais and the Maple Hill, Lutsen and Colvill fire departments assisted.
Cook County sheriff's deputies, Cook County Search and Rescue, the North Shore Health ambulance, the Minnesota State Patrol and others also responded to the scene.
Firefighters will remain on scene until it is completely out and they can begin the "mop-up" phase.
The cause of the fire is under investigation. 
(This story was first written for WDIO.com on April 13, 2020 and transferred to our new website as an archive page. No details have been changed in the process.)